Latest news
Saturday 14th November
Roger continues to put pictures from Nigel and Christine on the cross outisde the church.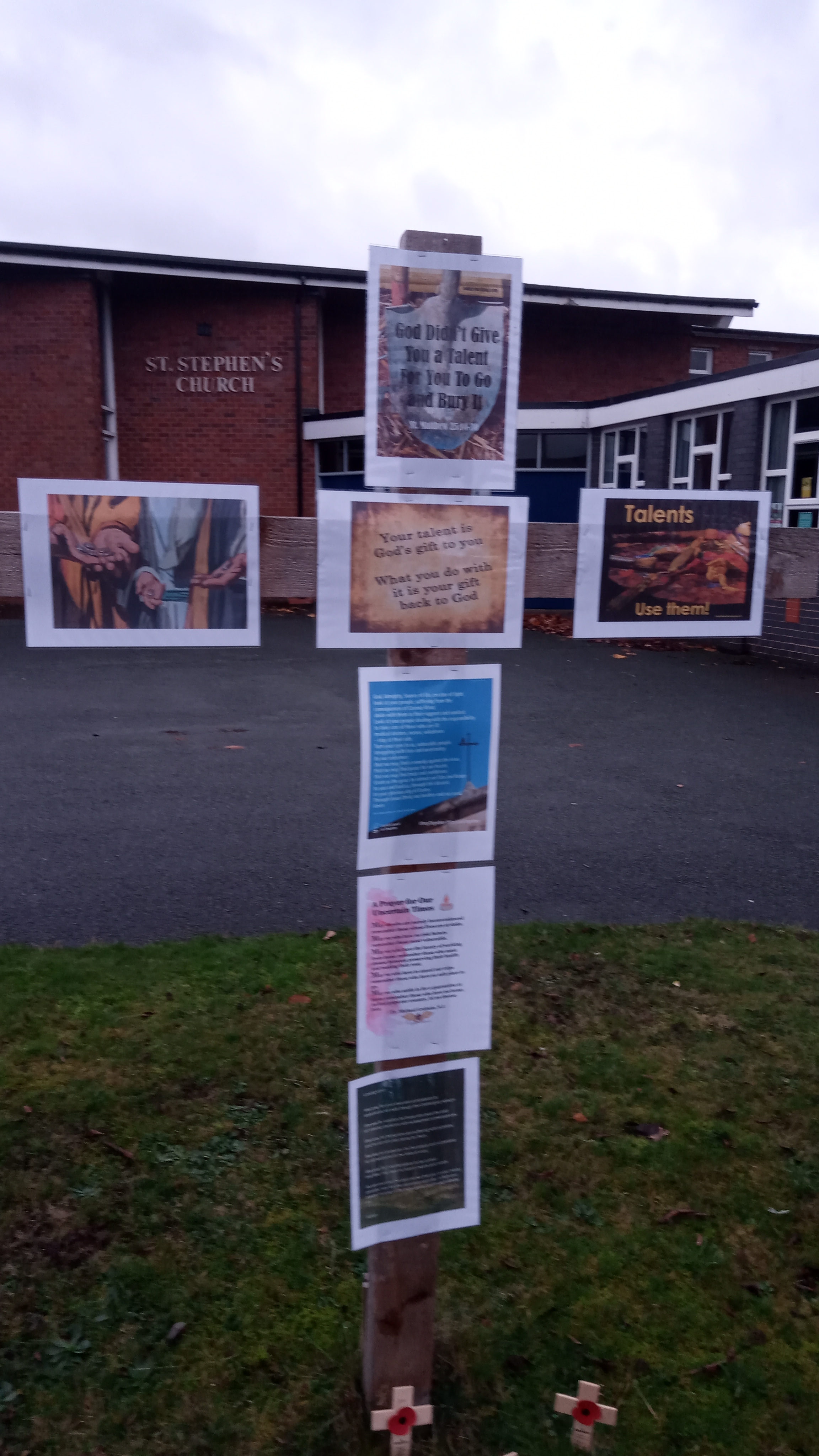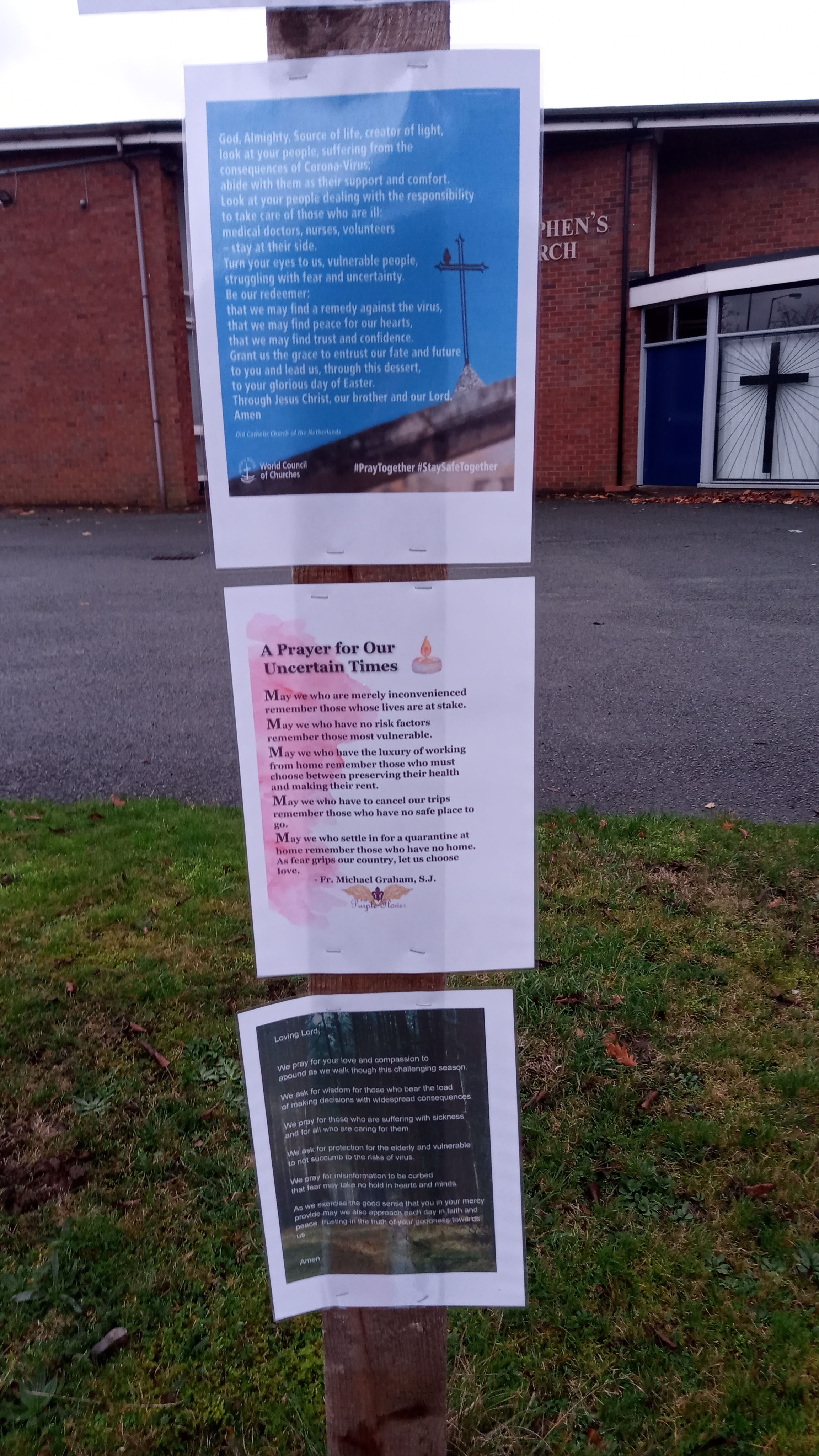 Saturday 7th November
Roger continues to put pictures from Nigel and Christine on the cross outisde the church.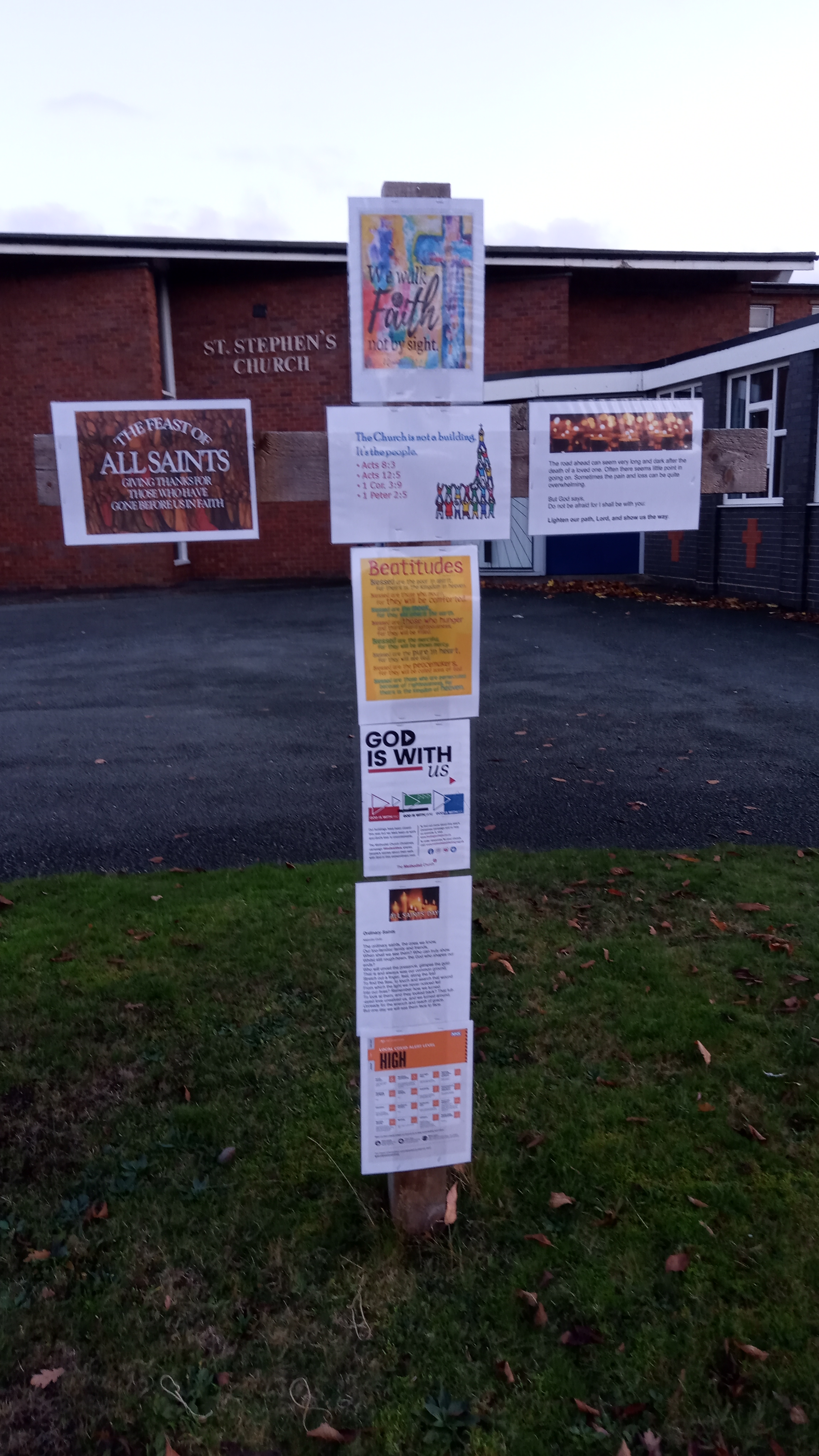 Wednesday 4th November
As we start on a month of Lockdown, Revd Nigel has shared an extra Pastoral Letter.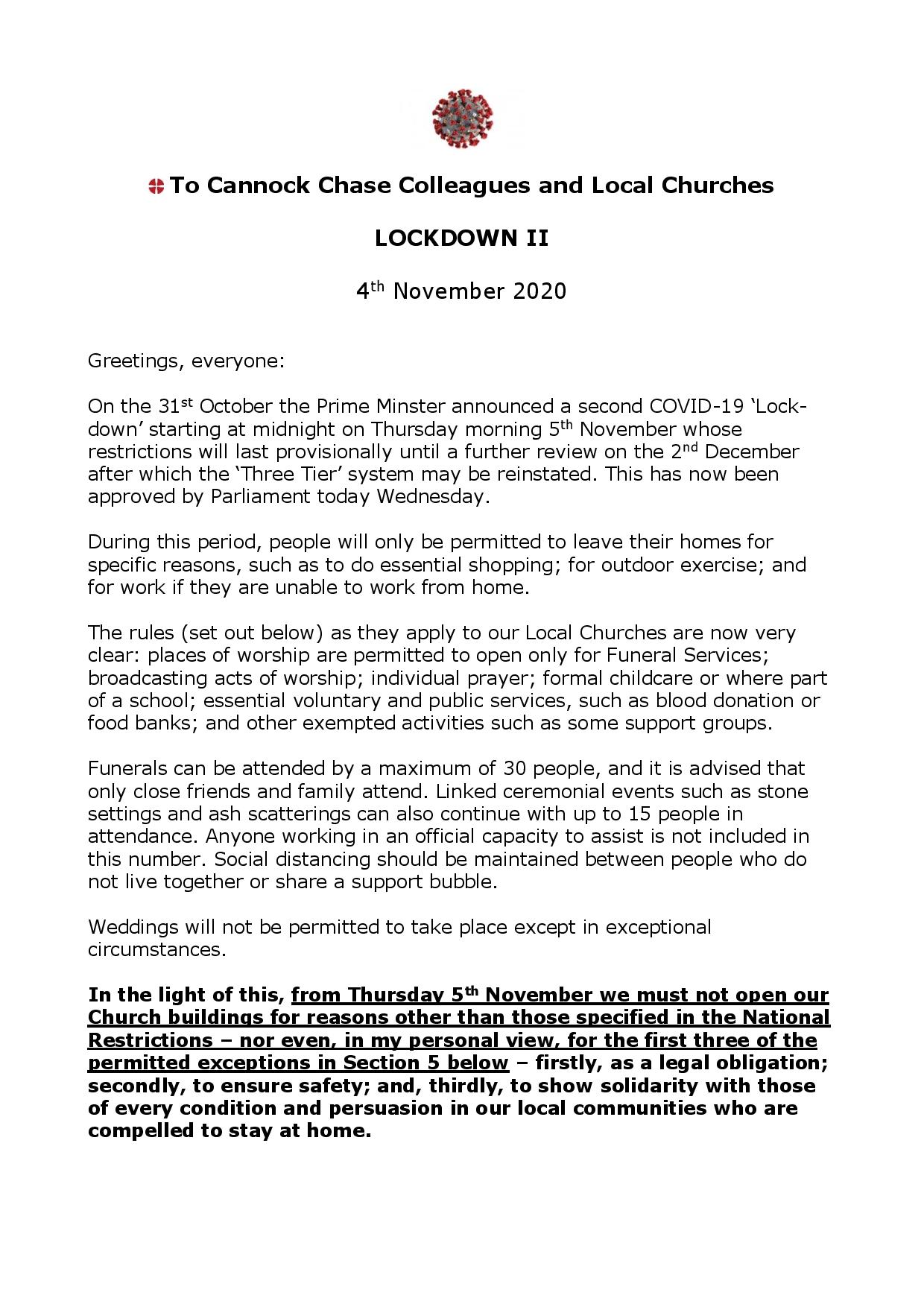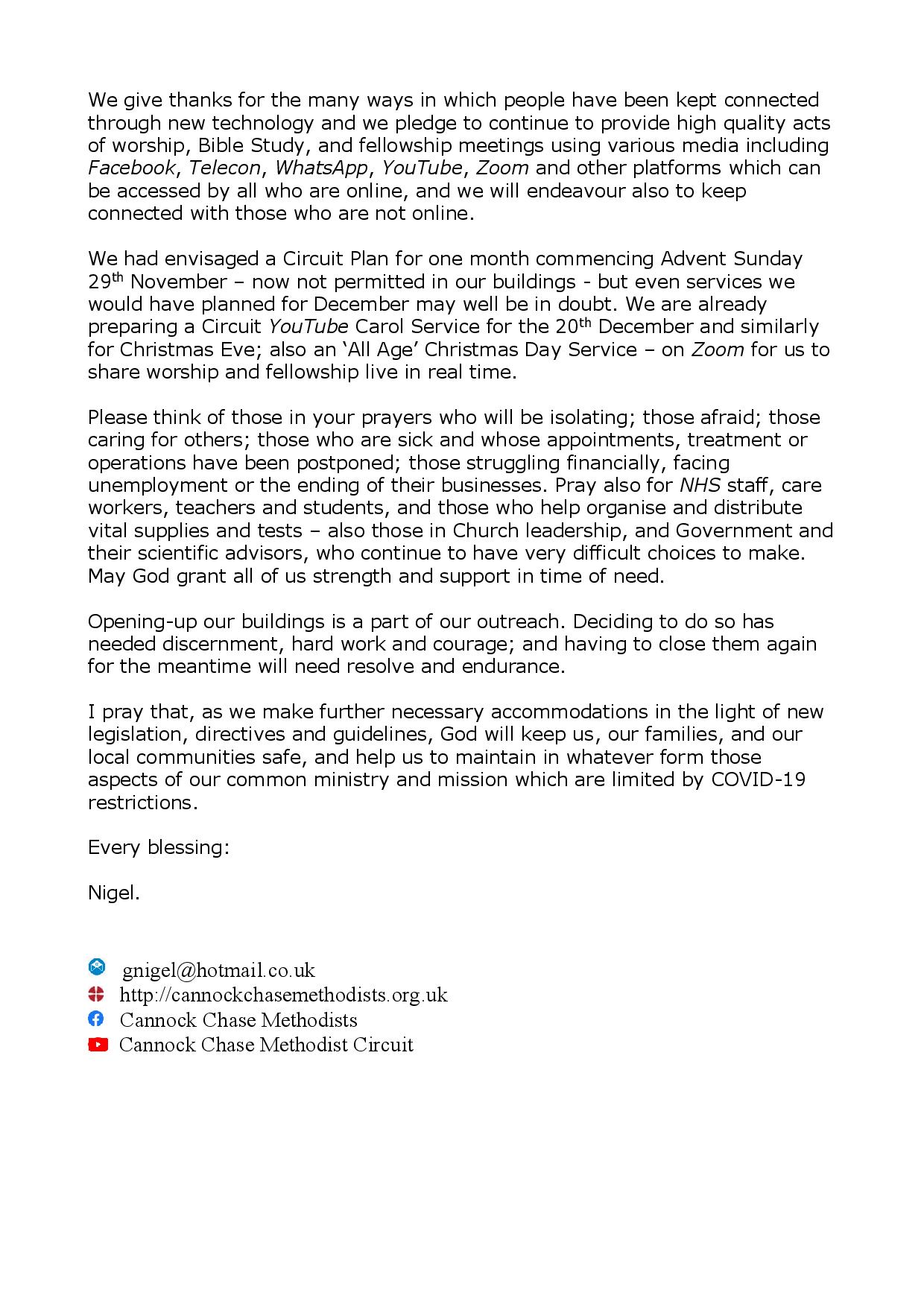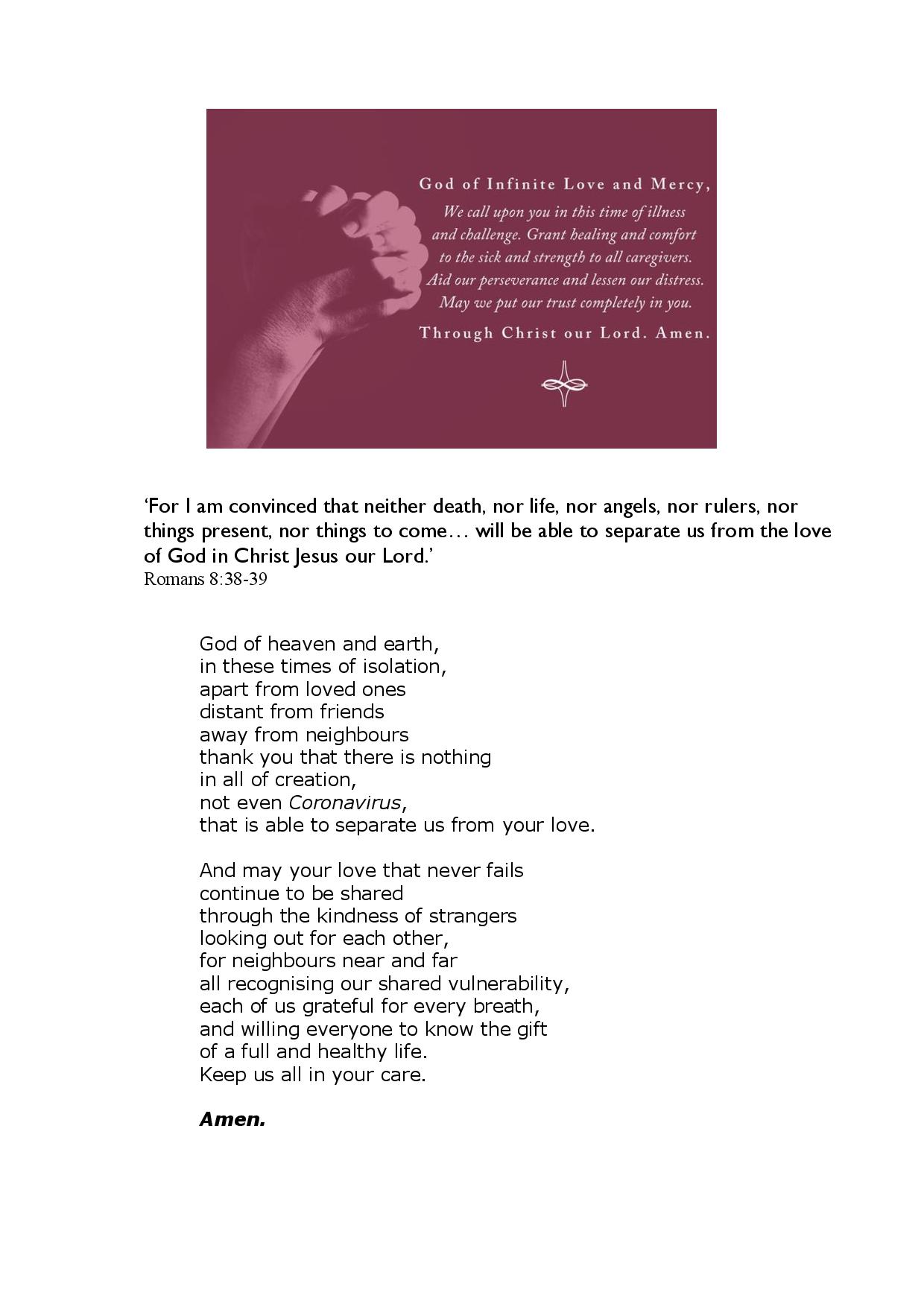 Nigel's letter refers to a section of the Government Guidance that was included in the full text as emailed to members. You can read the full text here
Val has shared this prayer that she has found particularly helpful over the past months.
In Him we live and move and have our being.
Know that you are not alone, God sits along side us wherever we are and we can turn to Him in Prayer always.
Keep us, Good Lord, under the shadow of your mercy in this time of uncertainty and distress.
Sustain and support the anxious and fearful and lift up all who are brought low, that we may rejoice in your comfort knowing that nothing can separate us from your love. In Jesus Christ our Lord,
Amen.
In all of this - teach us to be still and know that you are God.
Amen.
Thank you, Val.
Monday 7th September
Thanks to Christine, Nigel and Roger for their continuing work to keep a gospel message on our cross.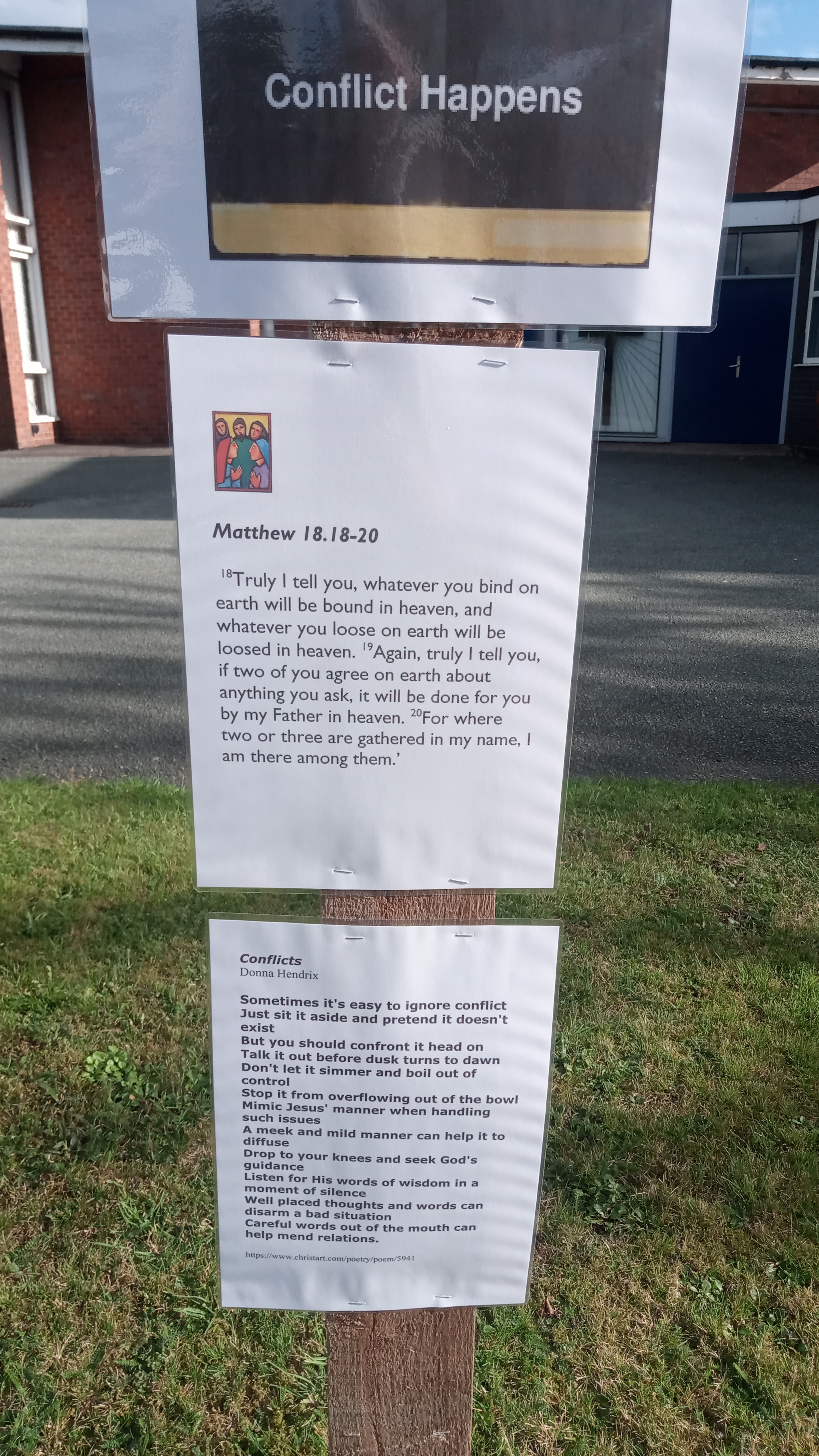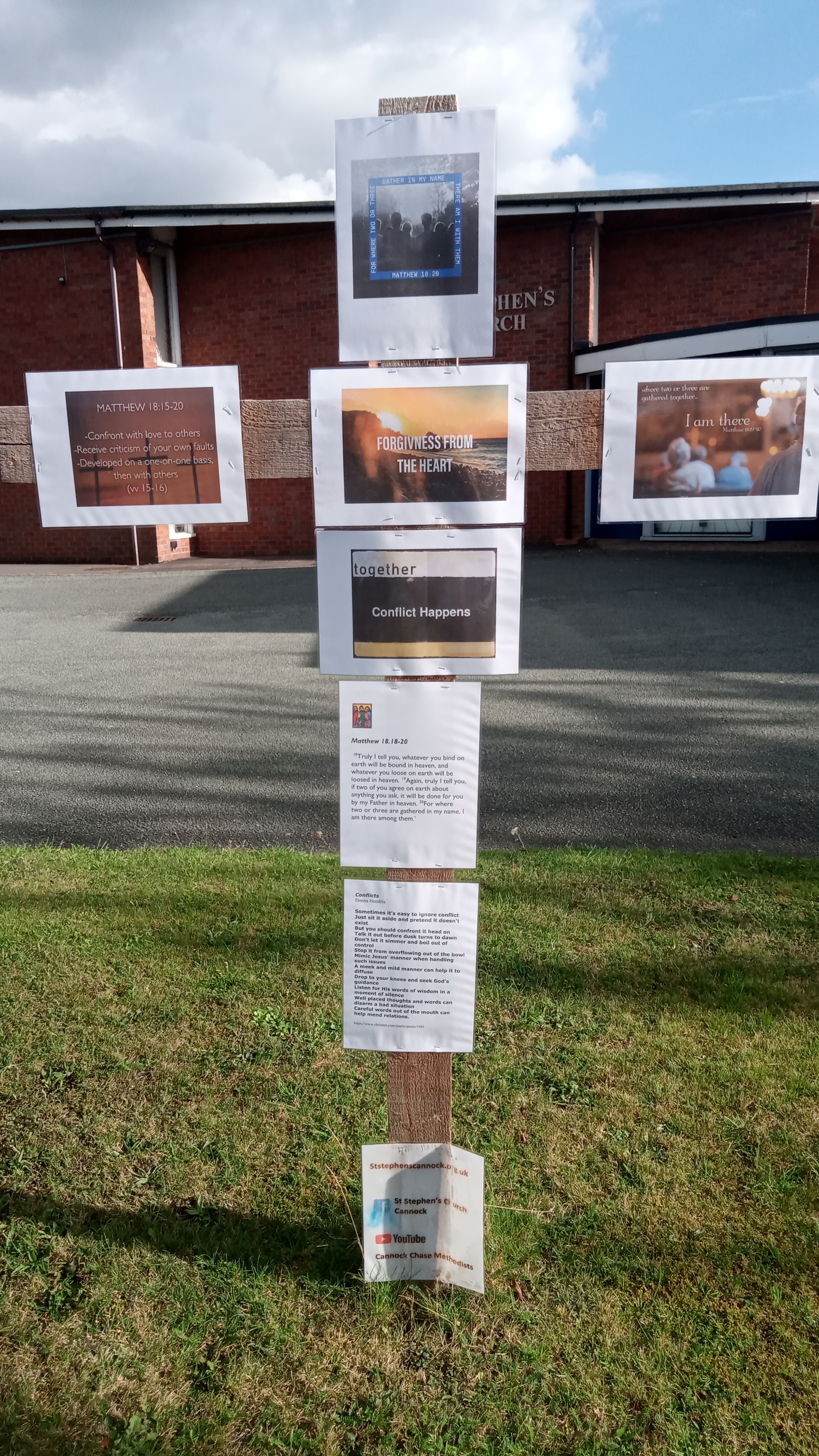 Saturday 29th August
It looks like I have missed a few pictures of the cross outside the church. Here are the latest ones. The cross is looking more "old" and "rugged" now after standing outside through storms and sunshine (there must be a sermon in that somewhere....). Fortunately Roger has been able to nail it all back together and it stands proud to give its message to all who will pause to read it.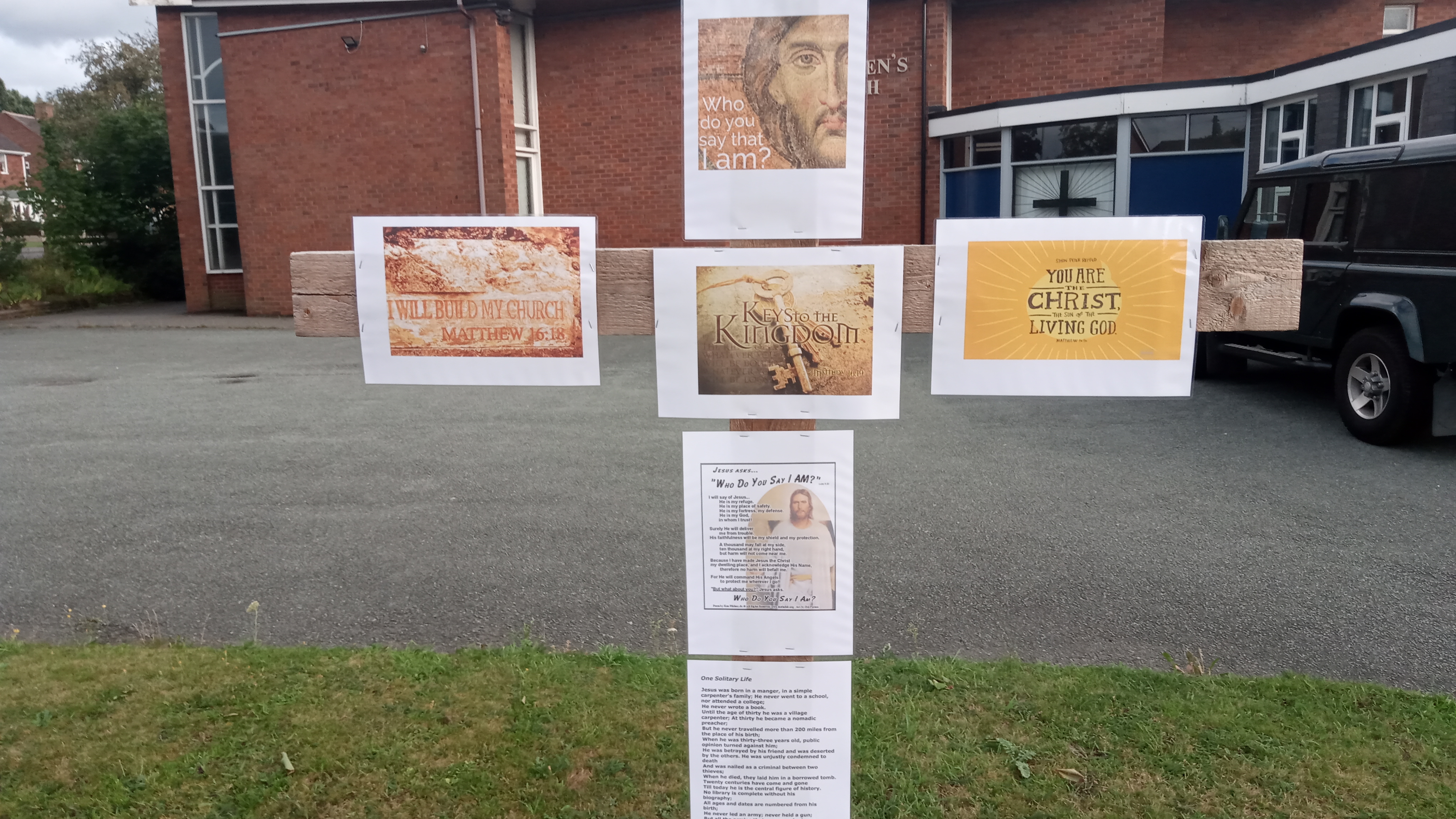 Tuesday 28 July
Nigel and Christine are back from their leave and have added new pictures to our cross.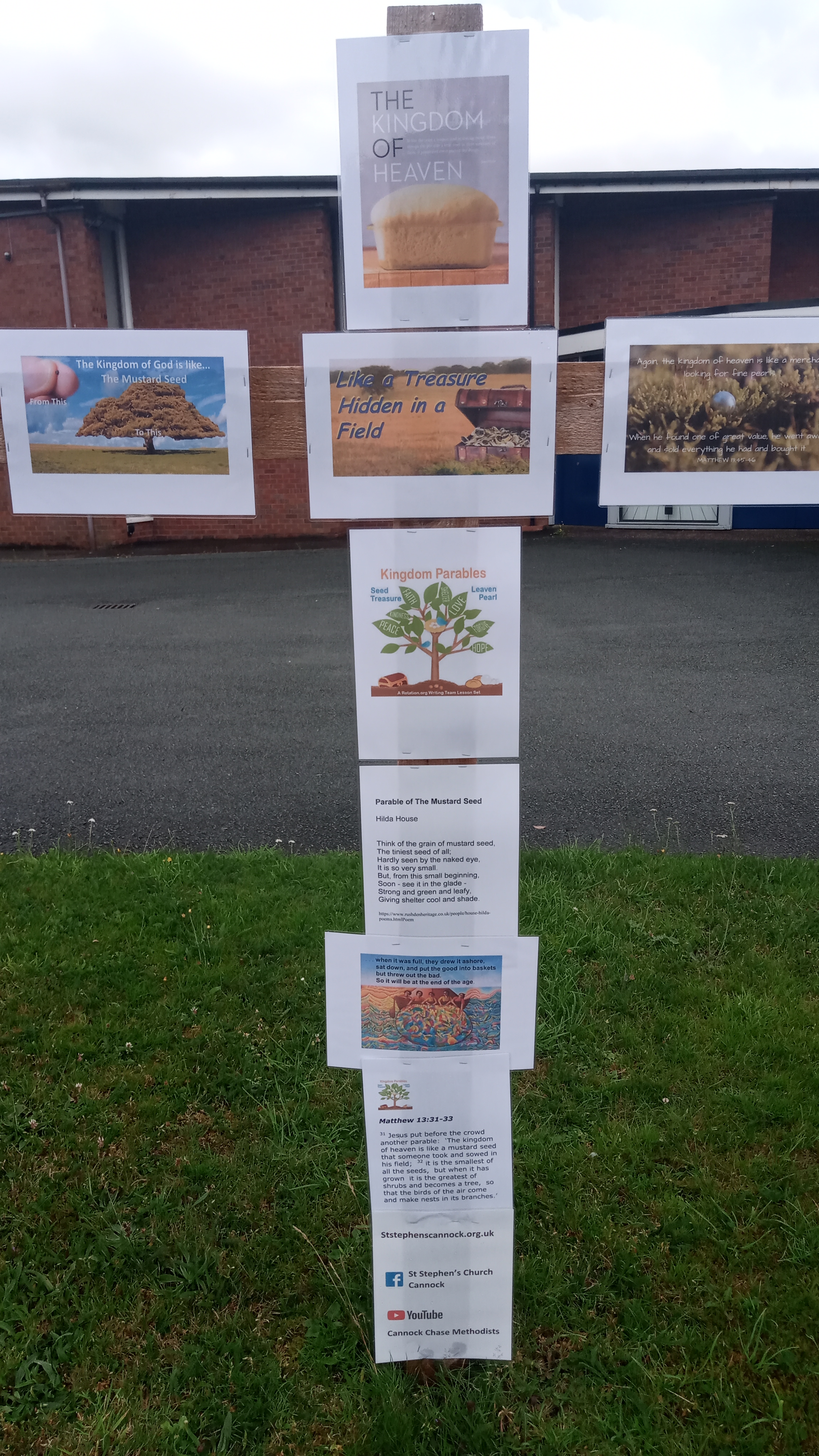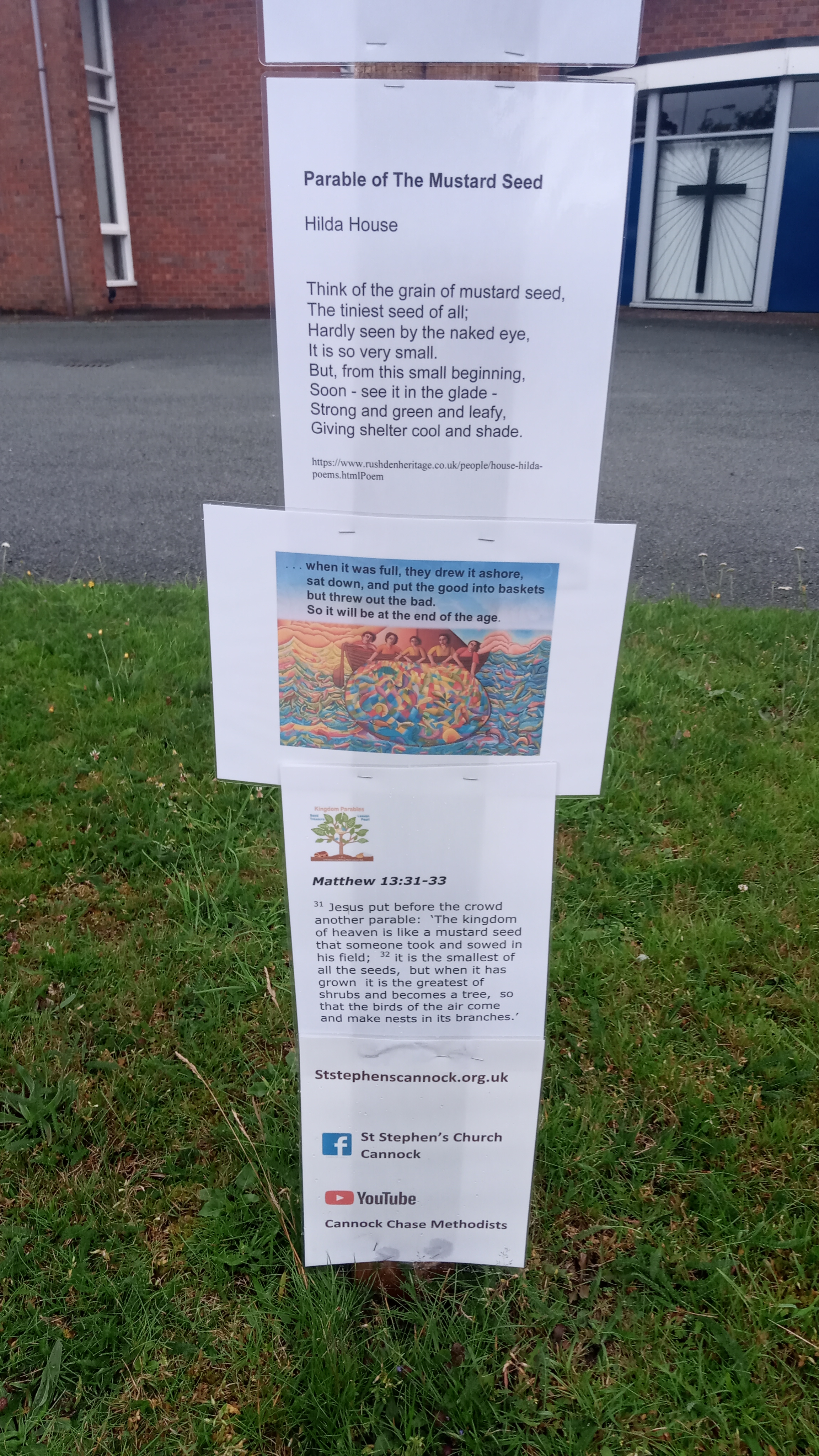 Monday 6th July
Christine and Roger continue to "upload" Christian messages to the cross outside St Stephen's.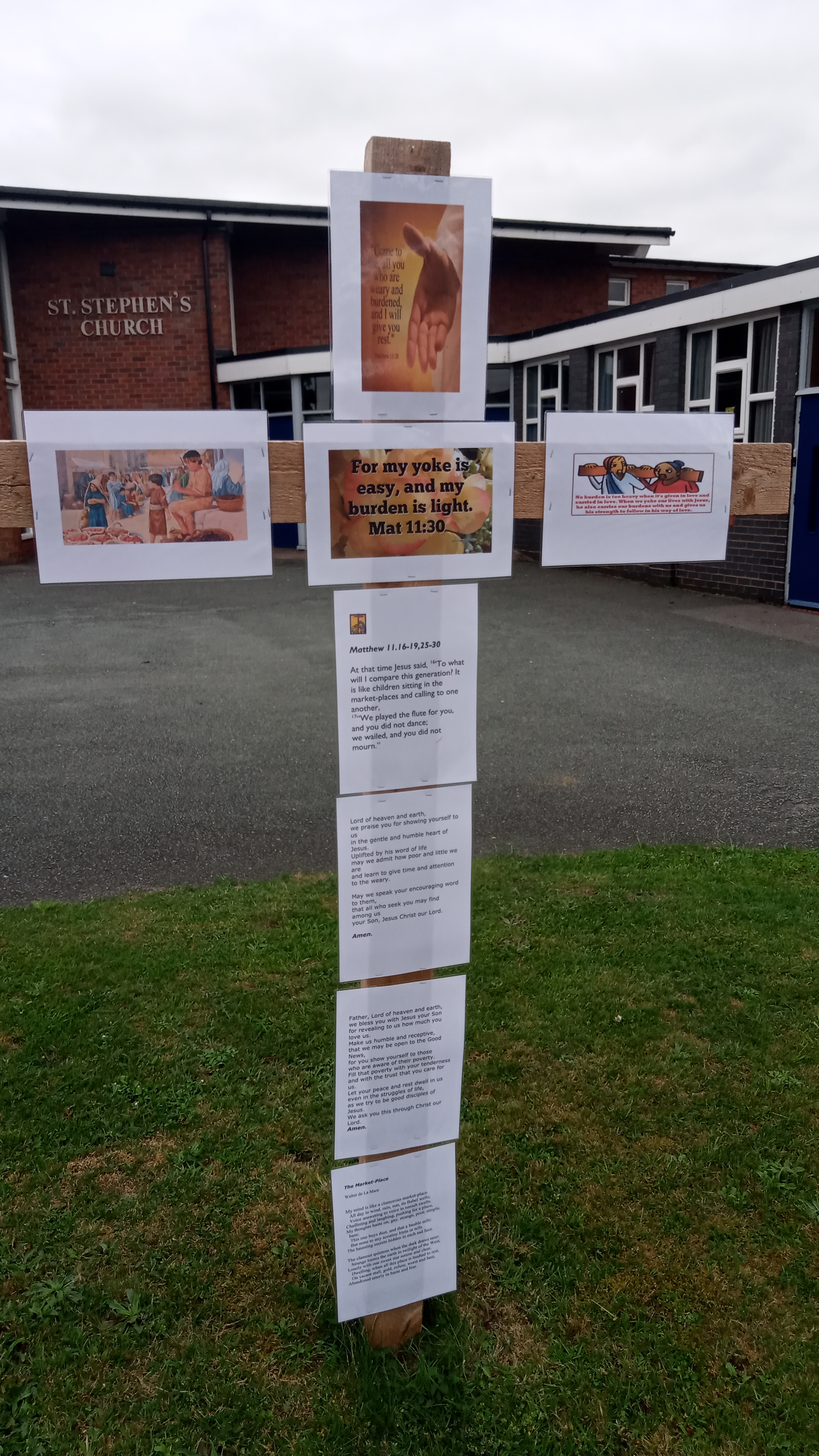 Saturday 27 June
The stewards invite you to read An Open Letter to the Methodist Church at This Link
It is quite a long read but poses some interesting questions about where the Methodist Church goes from here.
The opening paragraphs are:
"For a long time, many in the Methodist Church have been crying out for a radical transformation of our mission and ministry, a crystallisation of our identity, and the articulation of a longer term vision that goes beyond increasing our membership, getting more young people through our doors and encouraging more people into ordained ministry.
This message puts some flesh on the bones of that vision, asking the same question that is being asked in wider society at this time; can we seize this opportunity – this liminal space between the pre and post Covid-19 world – to take on board all that we have seen and learned, to commit to not simply returning to the way things were before, but rather embracing a new and more hopeful future? We believe we must."
Follow the link above to read on...
Christine is back on the case for the cross outside the church. Thank you,Christine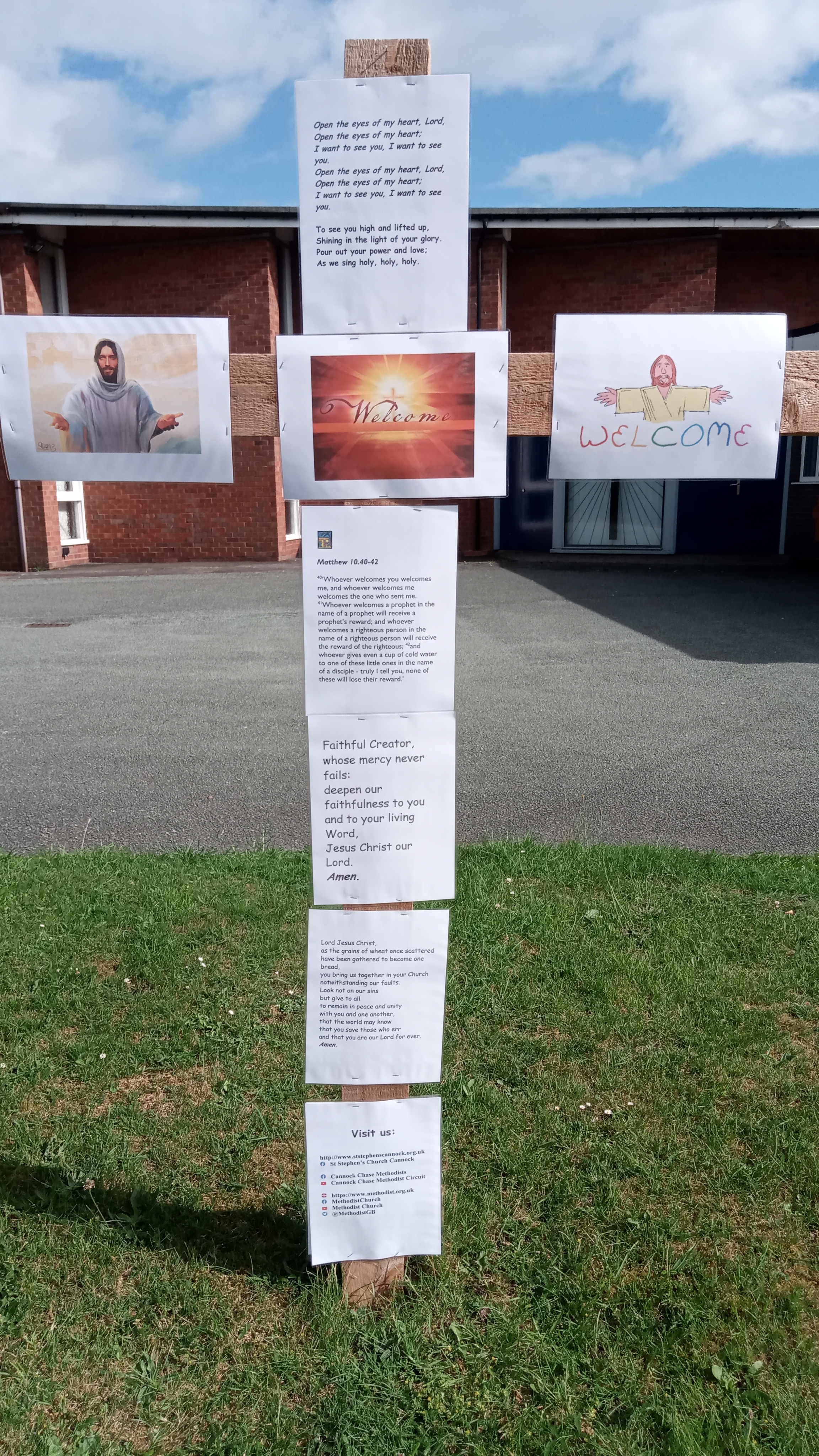 Saturday 20 June
This week on the cross we ask the question "Who is Jesus?".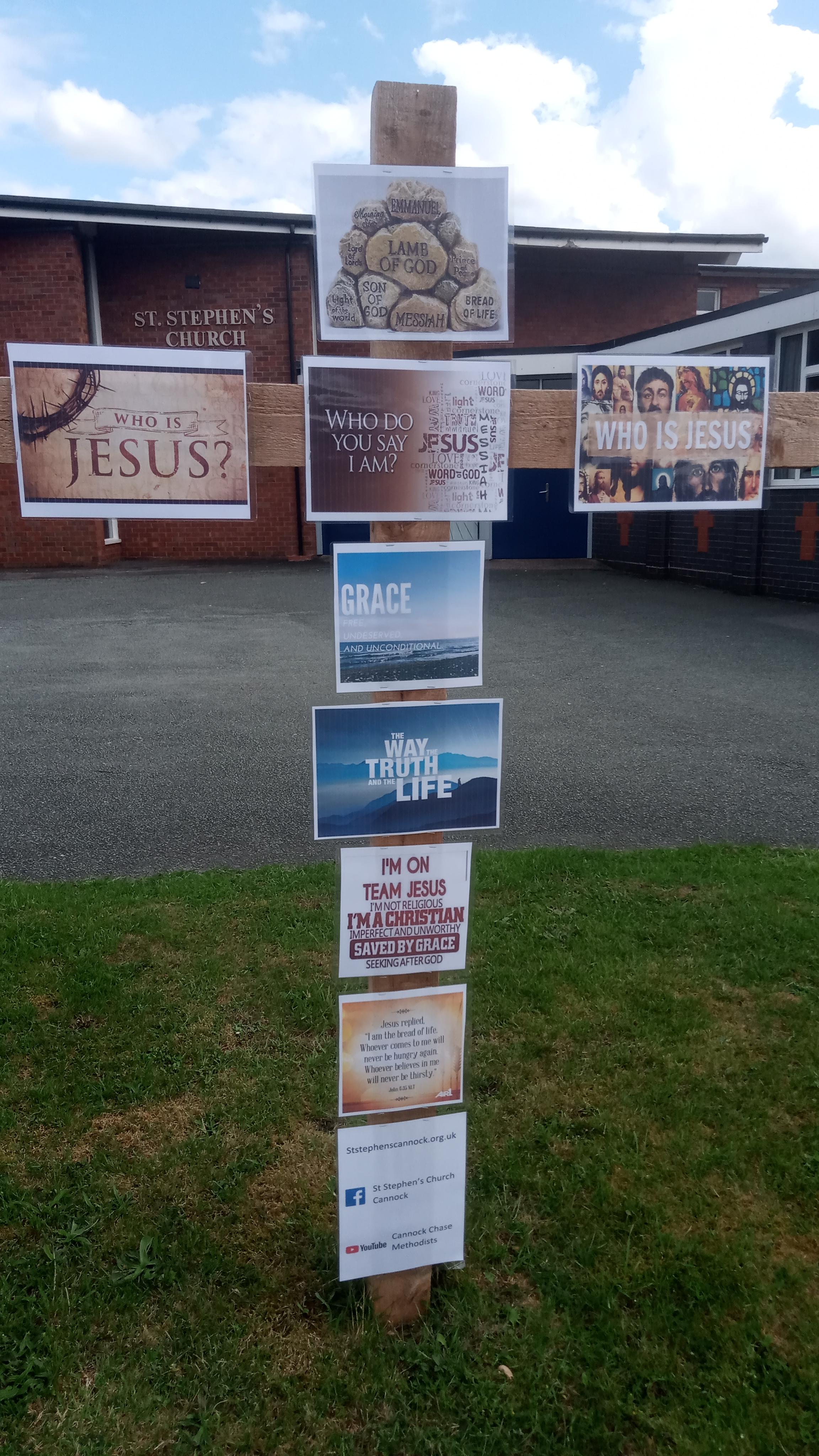 Food bank
The Cannock and District Foodbank has been very busy distributing food to local families in need. They had to close the distribution points in most churches at the start of Lockdown. Since then the Foodbank has been delivering food from the Coniston Hall warehouse in Cecil Street, Chadsmoor. They are in need of more donations to provide for the growing number of people using them. If you would like to donate some food you could take it up to Coniston Hall. It may be easier to make a cash donation via the Foodbank's Just Giving page. Details of this and all the Foodbank's work can be found on their website. Cannock Foodbank
Saturday 13th June
This week the cross outside the church has The Lord's Prayer on it.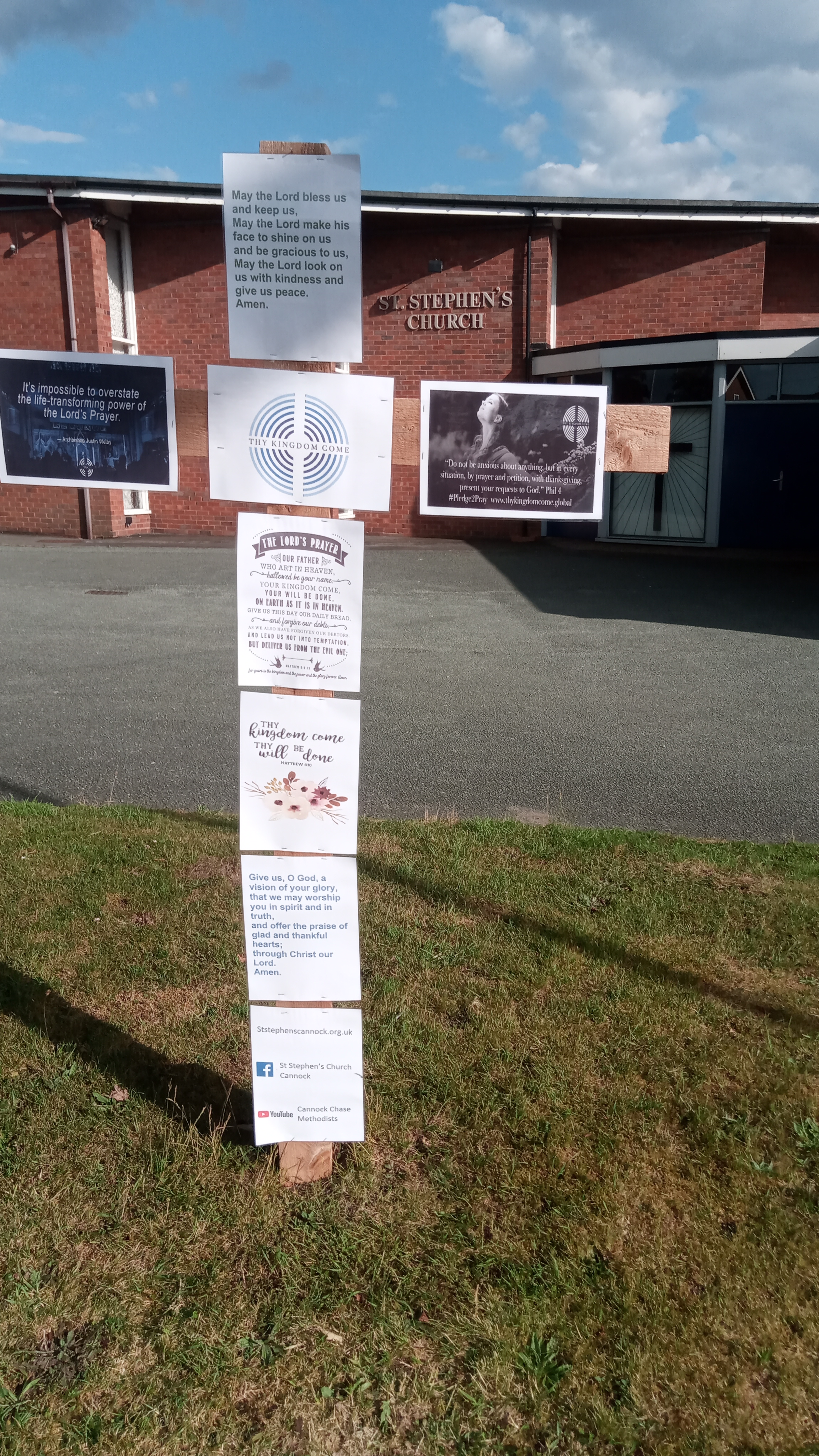 The stewards have written a letter to share some of their latest news.
Saturday 6th June
Christine provided more messages for the cross.Thank you Christine for this outreach to local people.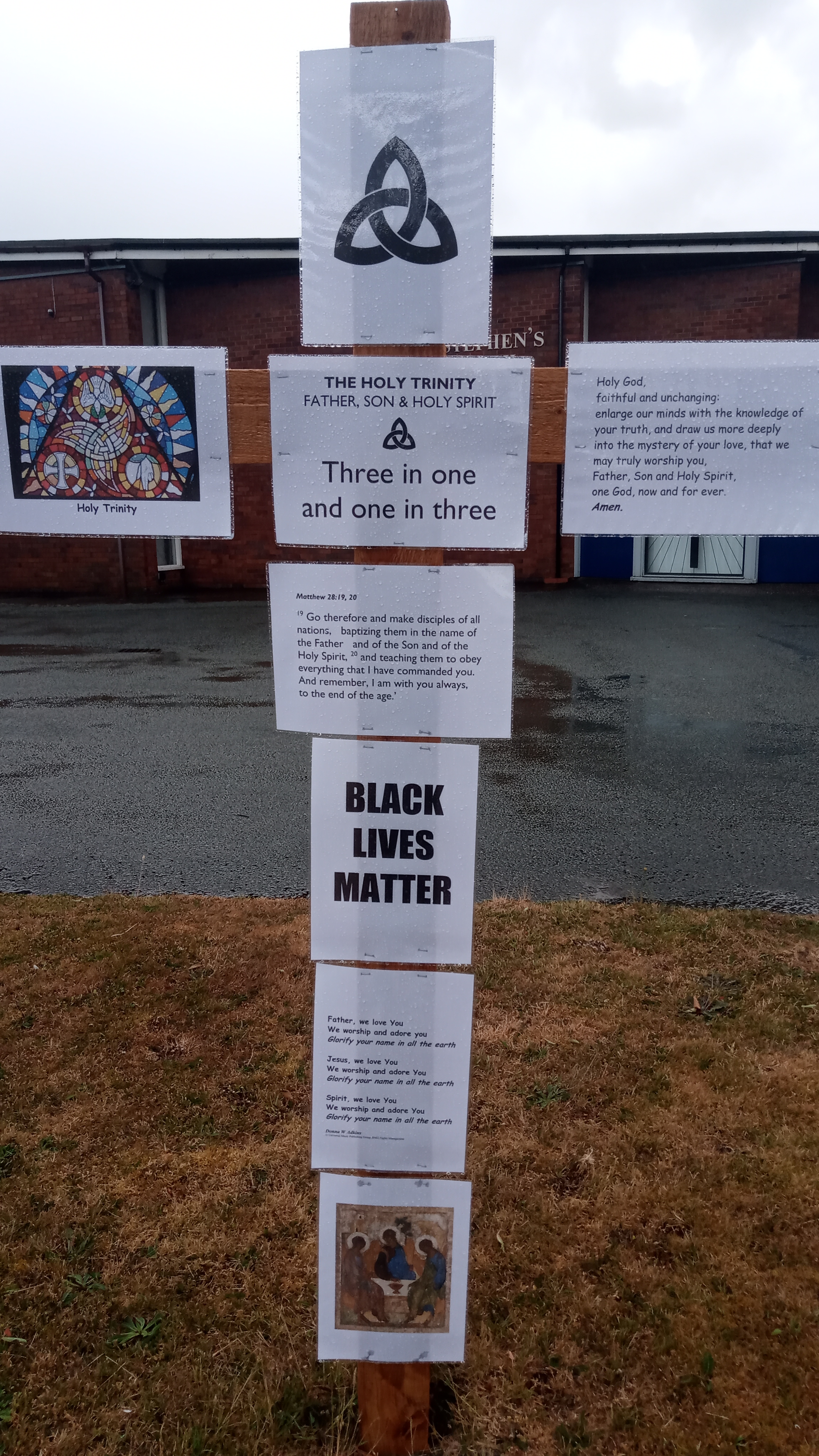 Saturday 30th May
Once again Christine has provided some messages to pin to our cross.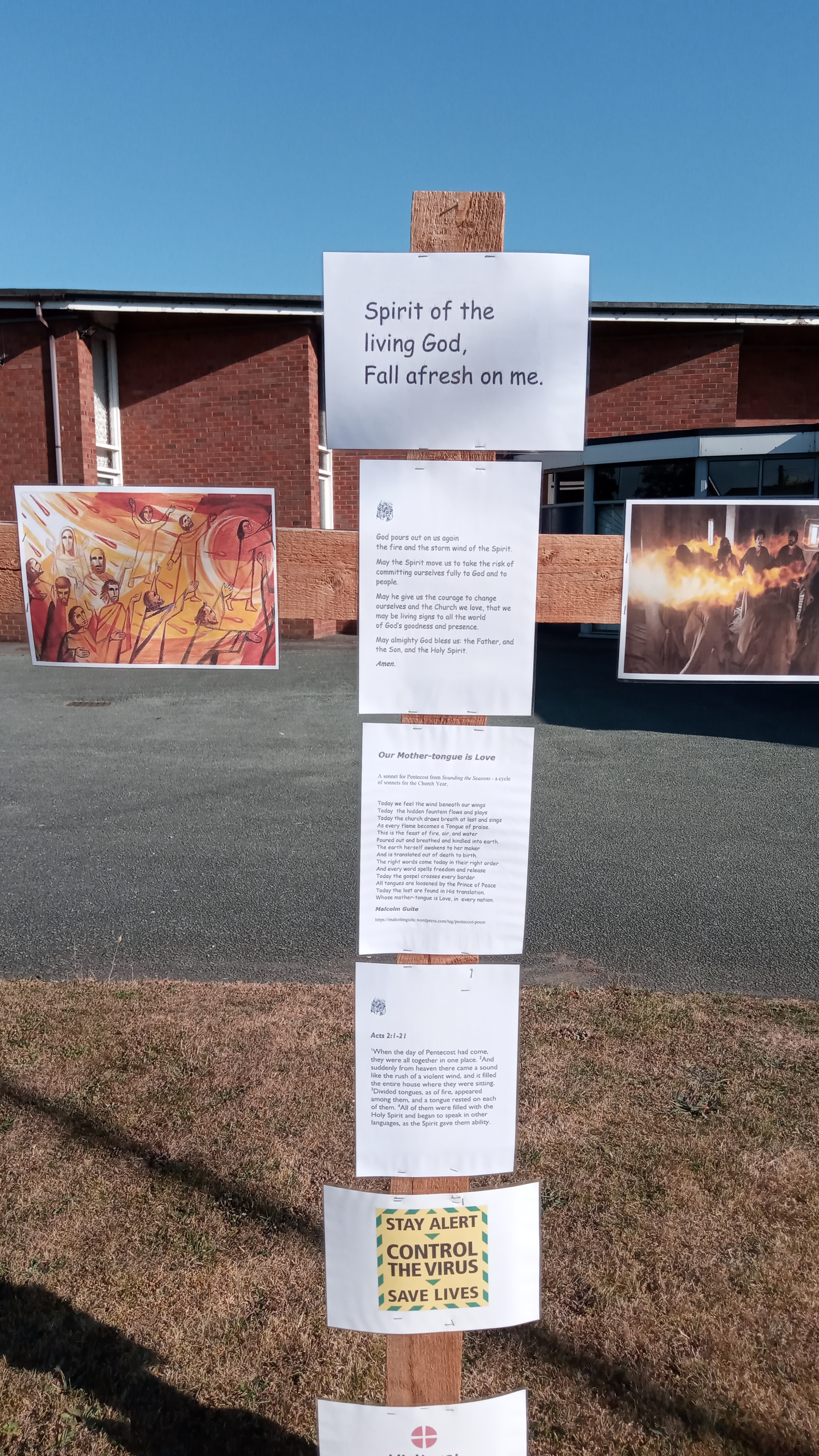 Saturday 23rd May
There are lots of new things happening online across the circuit.
In these times where we cannot meet face to face you might like to try something different.
The Gospel Choir, Mens' Meal, Boys Brigade and Ladies Bible Group have all done some meetings on line using Zoom. If you are interested in joining any of these get in touch.
Some of you may know Mark Timothy who has been appointed as a circuit pastoral worker. Obviously he cannot do much in the way of traditional pastoral visiting so he is finding new ways of reaching out to people.
Mark has set up Cannock Chase Circuit Youtube page. Here you can watch a short video of Mark introducing yourself as well as a few recordings of worship you might enjoy.
In addition Mark has started an online chat meeting on Tuesday mornings 10.00 til noon. You just need to click on the Zoom invitation below and you can meet up with Mark and other friends from around the circuit. Just drop in for a little while - you don't need to do the whole two hours.
Mark's Zoom meeting.
Zoom id 730-339-0126
Our Boys Brigade officers have been making the most of their exercise walks and time in the garden by taking photos of the wildlife they meet. They started sharing the pictures on Whatsapp. And then it got competitive. Here are a couple of favourites but you can see more on this page.. Does anyone else want to join in and send their Lockdown Wildlife Pictures?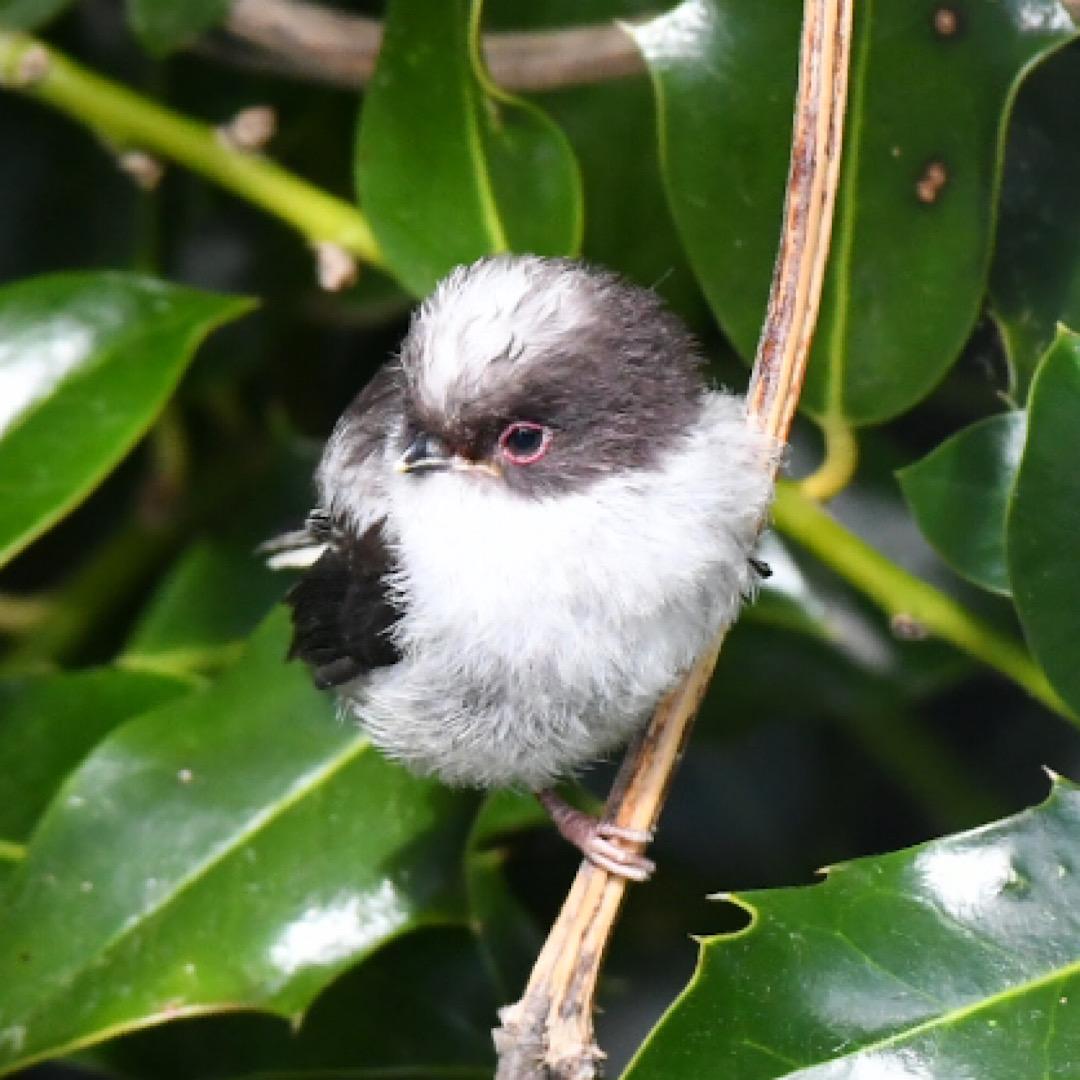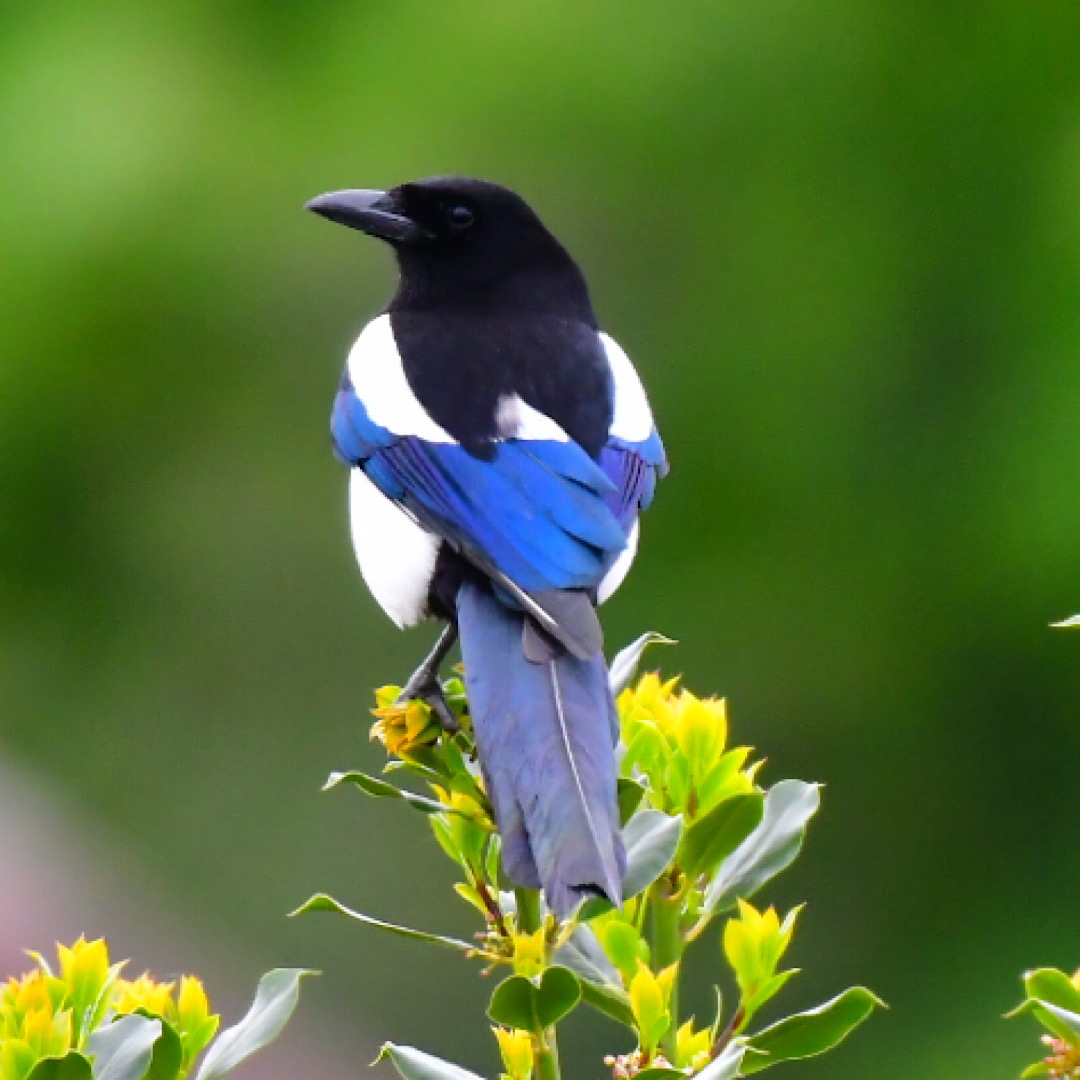 Saturday 16th May
The message on the cross has been changed again and there are more ribbons tied to the fence to mark the prayers of passers by. And did you see the Gospel Choir on Midlands today this week?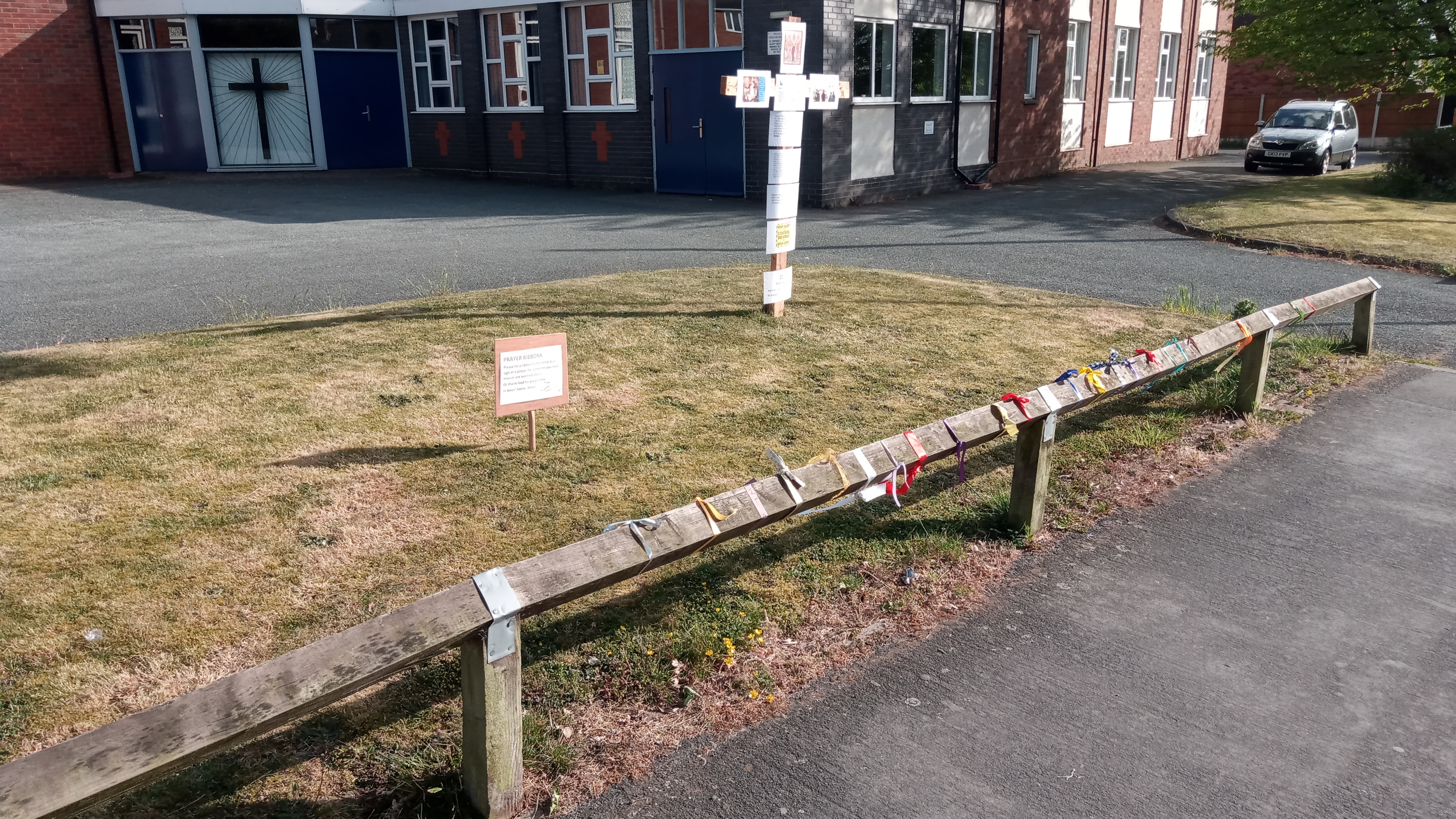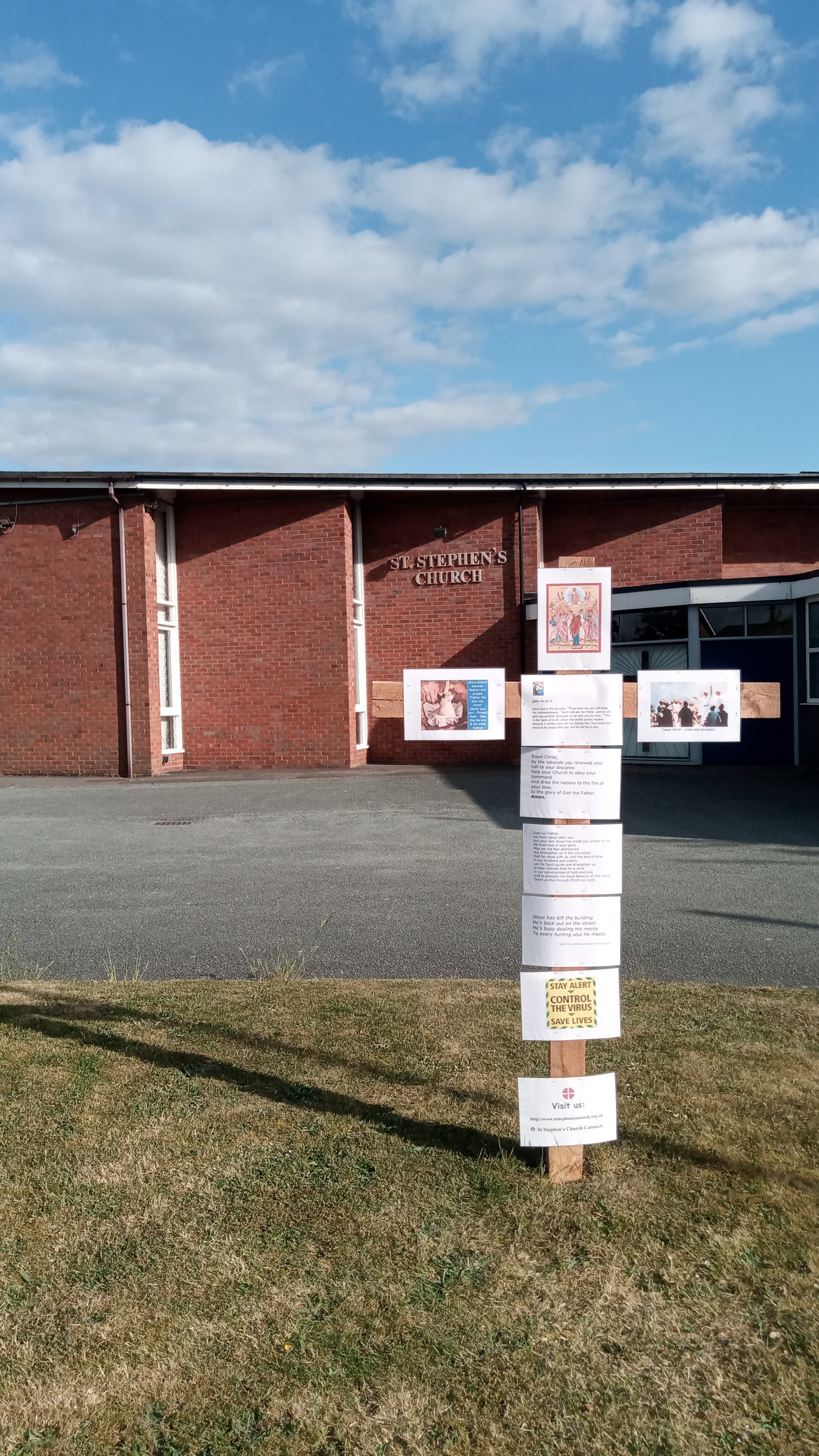 The Gospel Choir was rather excited to find that a recording of them singing The Millennium Prayer at the Symphony Hall in 2017 was gong to be introduced by none other than Sir Cliff Richard. The recording has now been viewed over 10,000 times! (And not quite all of them by choir members). It is a lovely reminder of what we are missing in not being able to sing together. You can enjoy singing along by clicking on this link on Youtube
This week we invited passers by to tie ribbons to our fence to represent prayers. We put the first few but several more have now been added.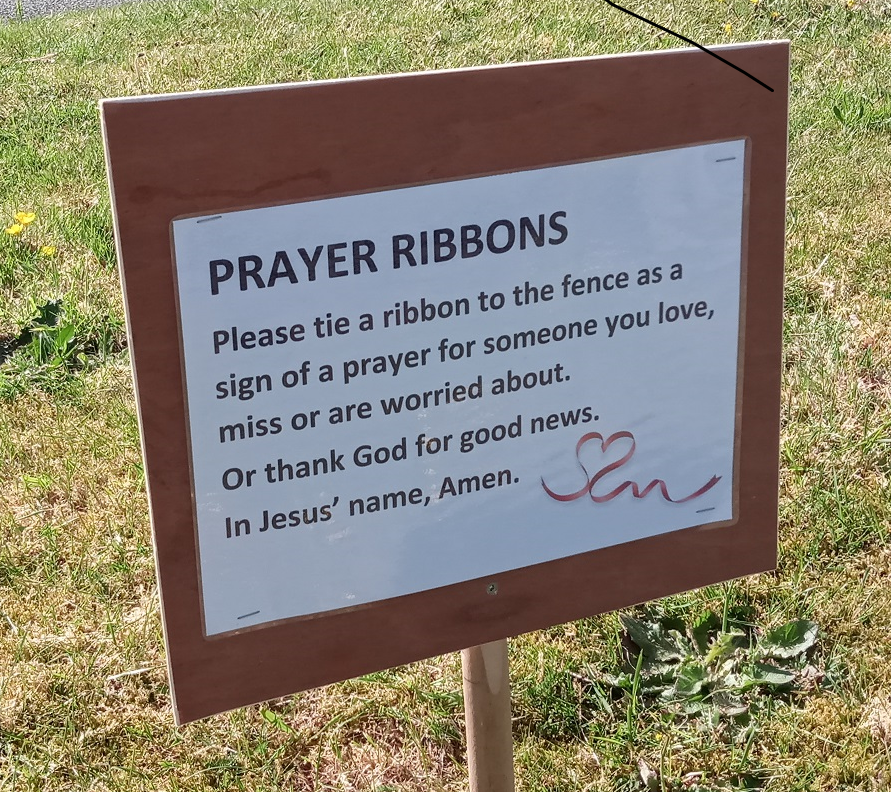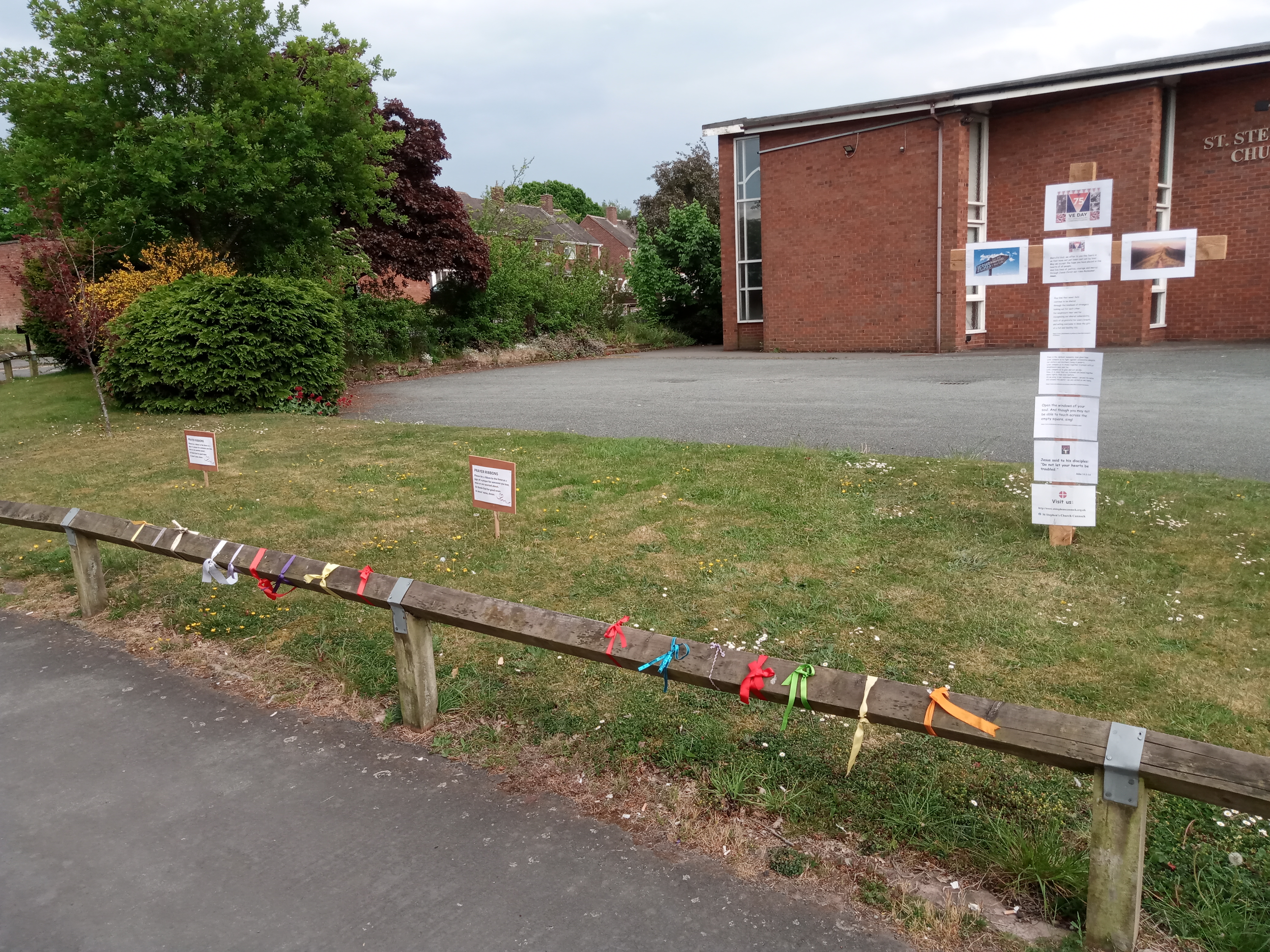 and there are new messages on the cross.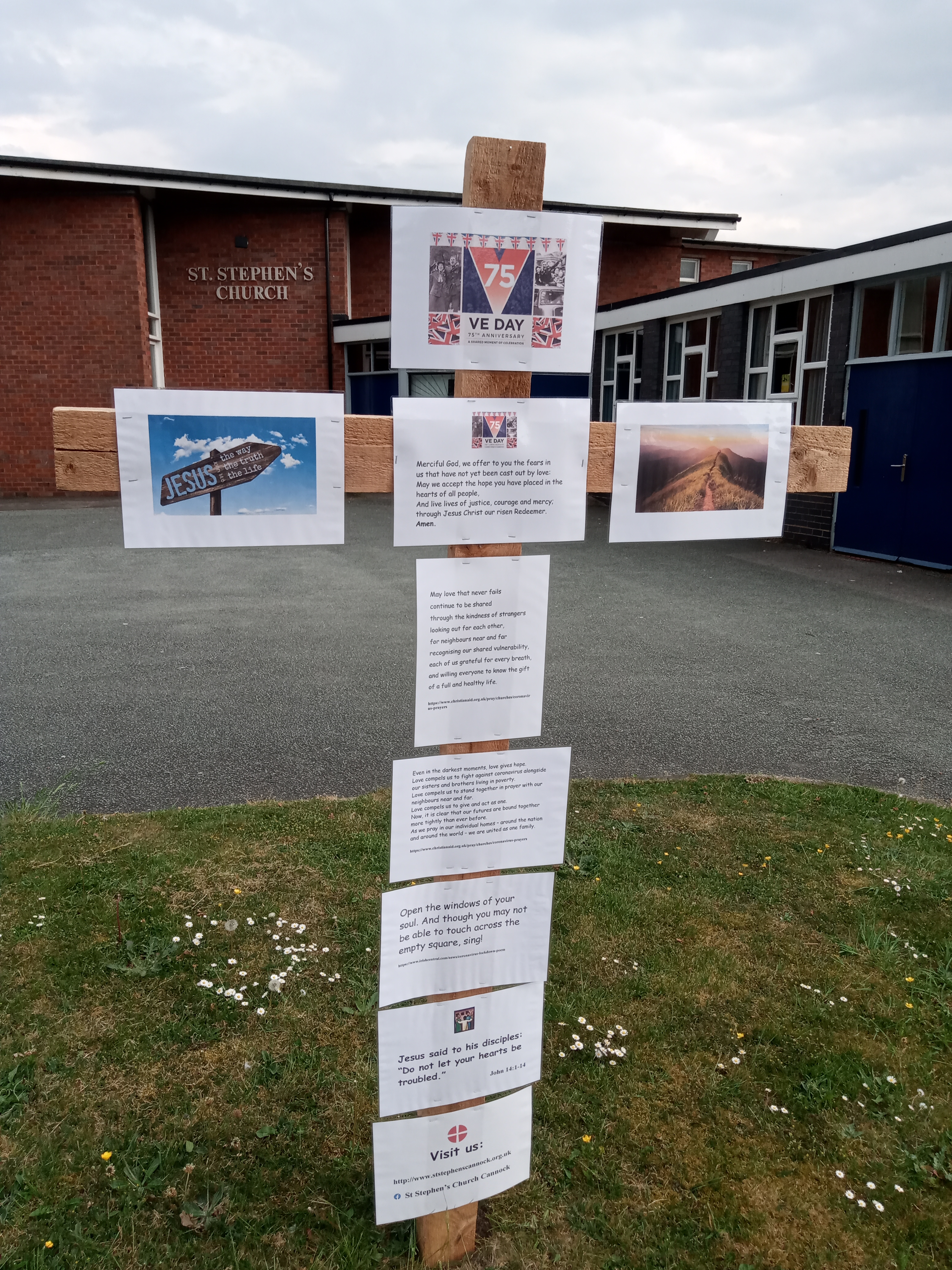 More messages on our cross this week. Thank you Christine.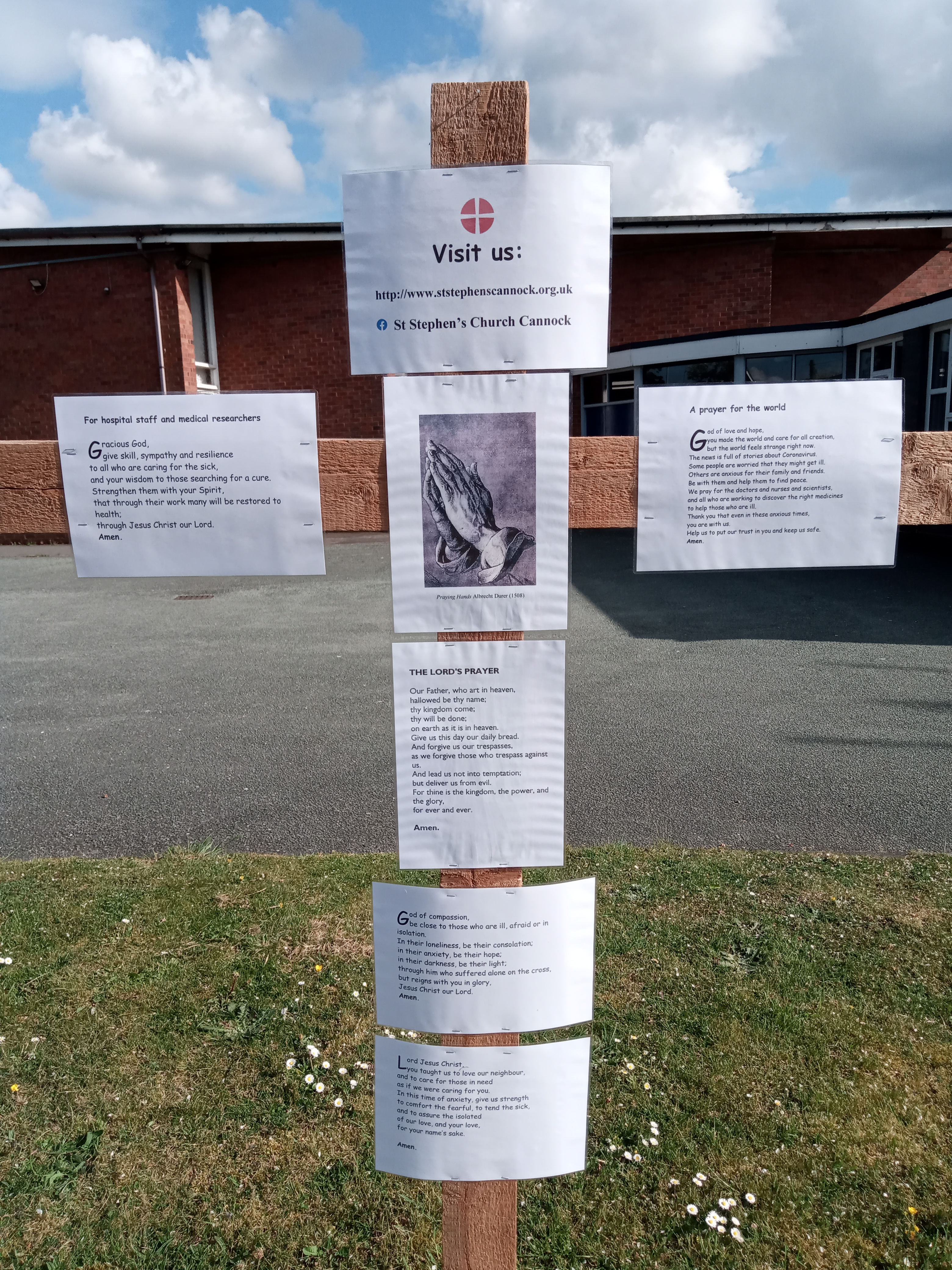 Christine has been busy and there are new signs on the cross outside St Stephen's.
Barbara was encouraged by these words on the Methodist Website.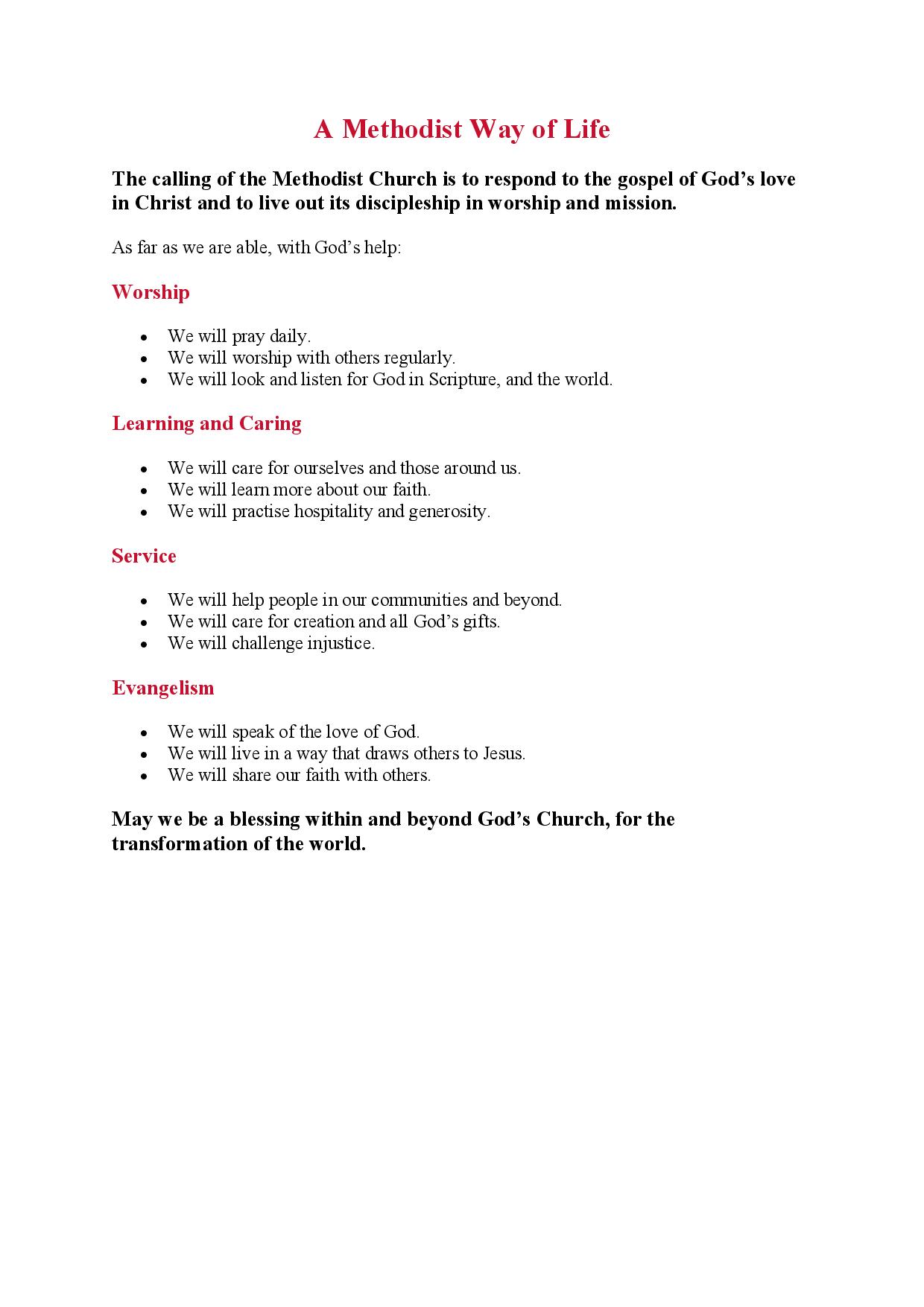 After lots of encouraging comments on last week's cross, Christine has made new signs for this week.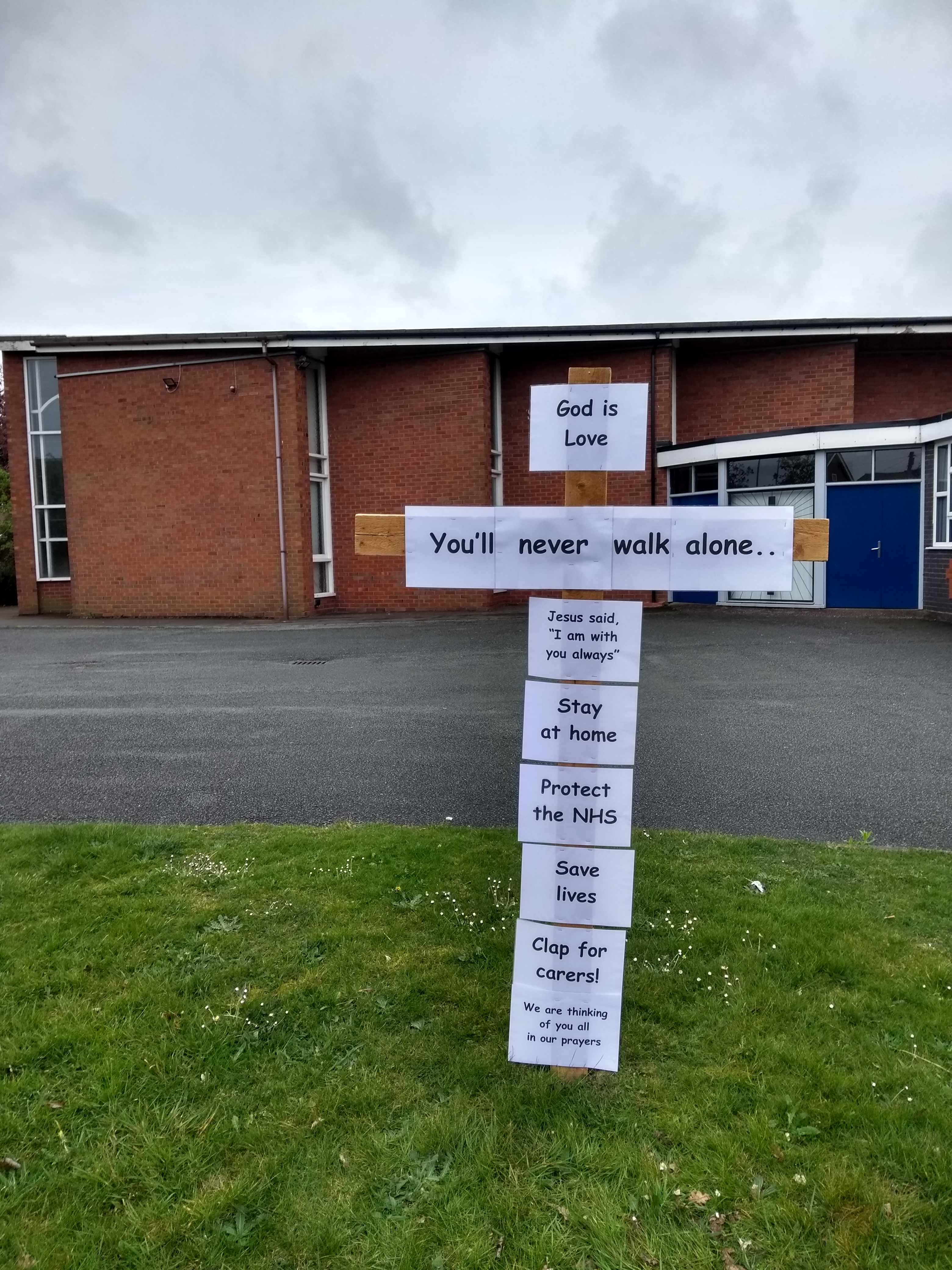 It's not exactly as planned, but it our Easter Cross is there for all to see.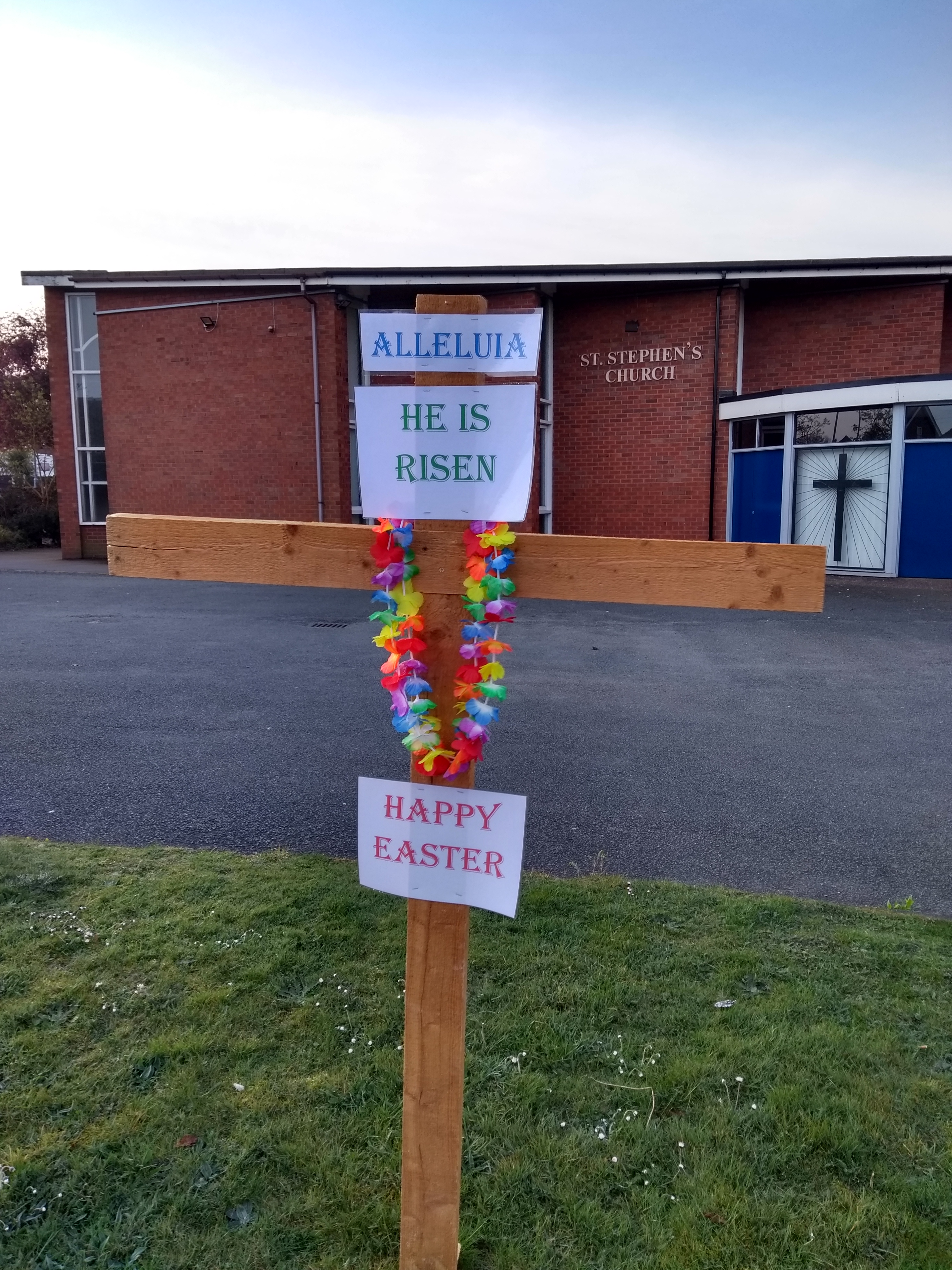 Roger went down to the church on Good Friday and moved the Lenten Cross outside for all to see on their walks past.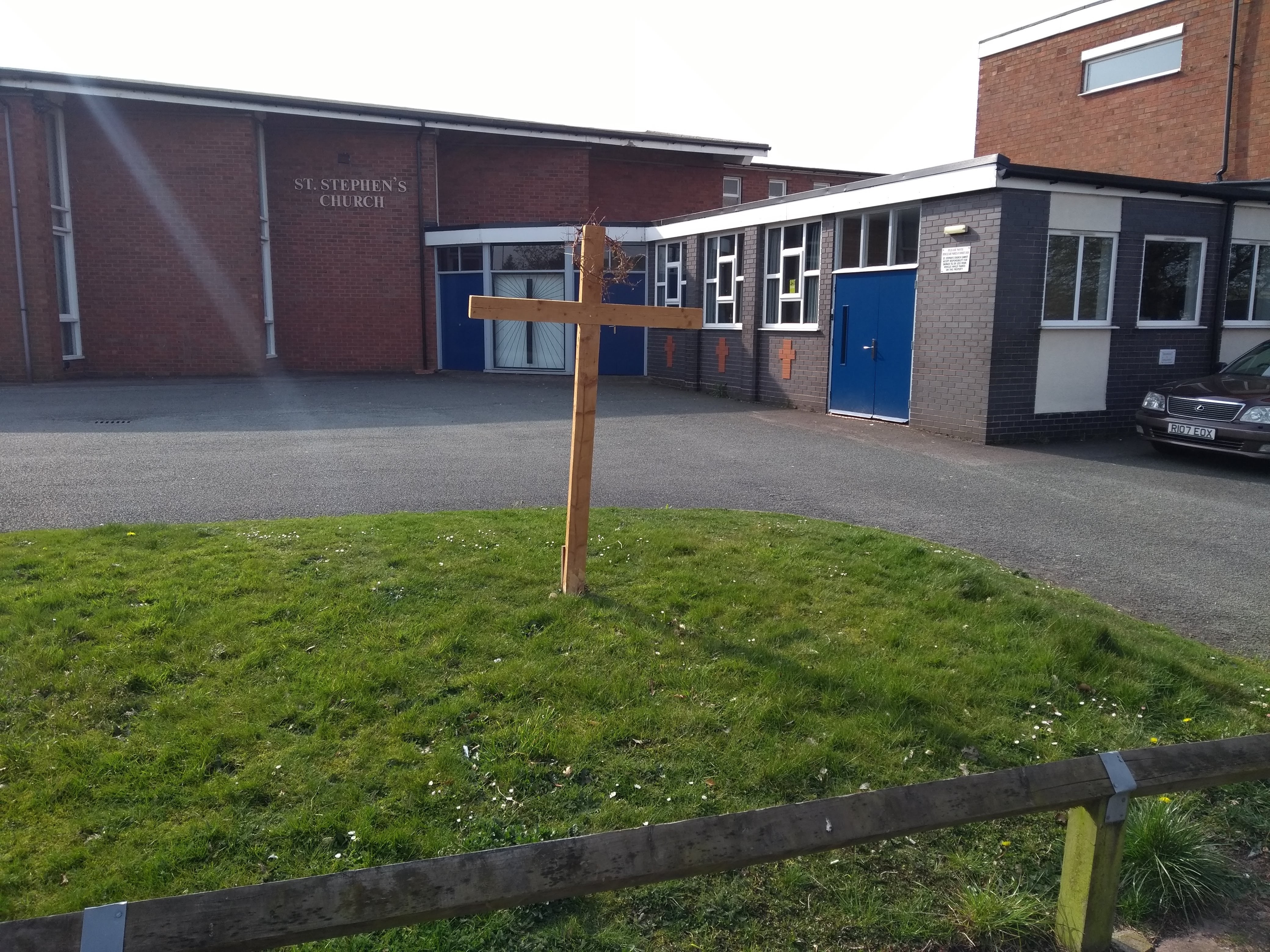 A message from Barbara for Palm Sunday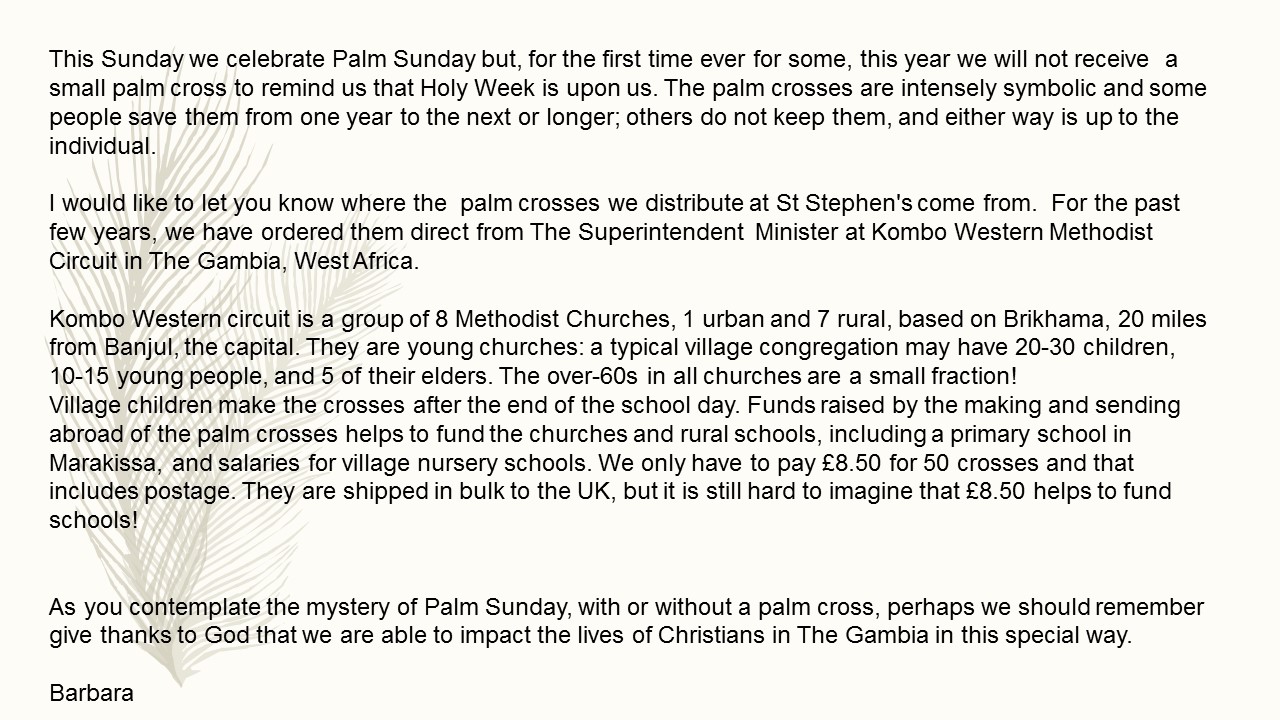 Martin shared this Prayer in Lockdown from Lichfield Cathedral.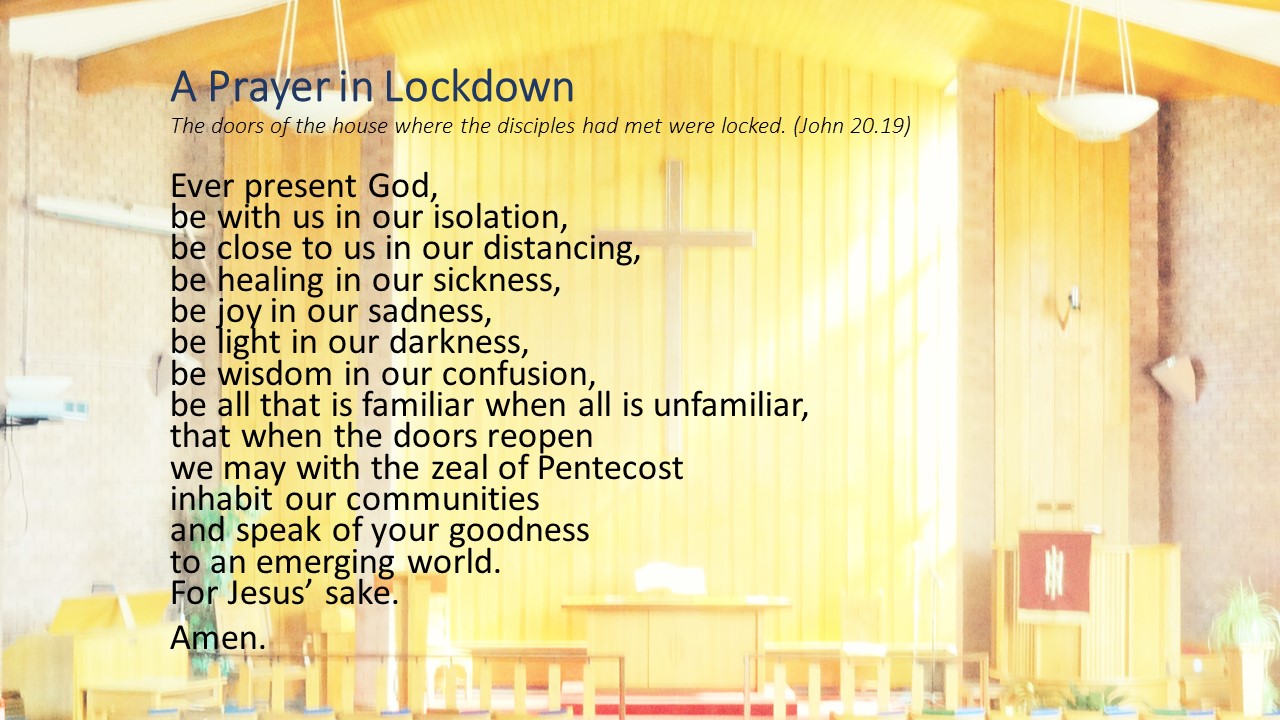 The Gospel Choir took on modern technology ... and won. They sang together over the internet.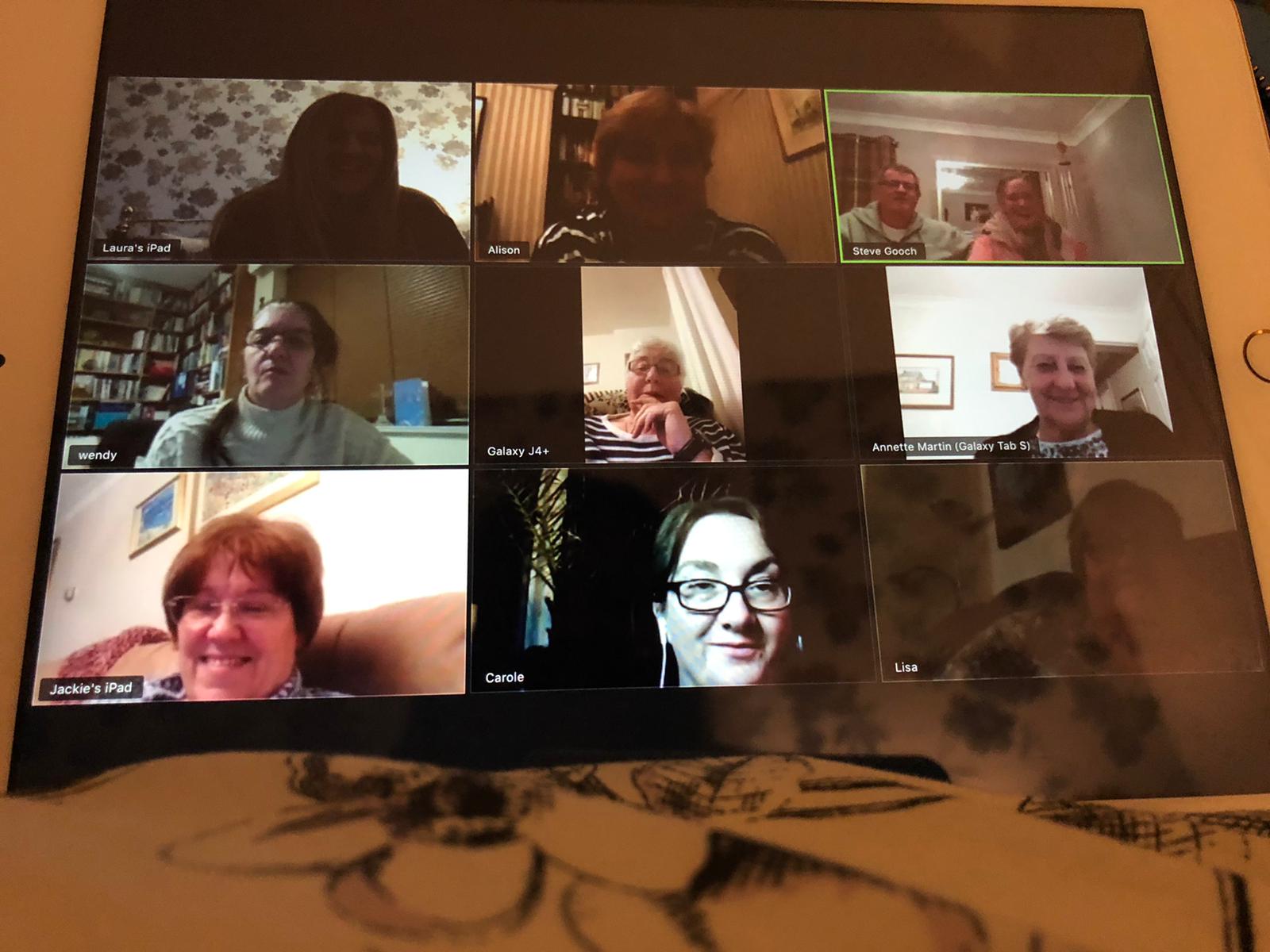 If you have anything you would like to share on the website please send it to Alison or to the church email.